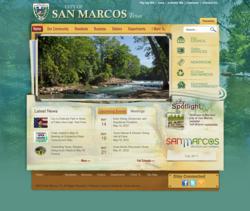 Our goal in developing the website is to improve customer service and government transparency.
San Marcos, TX (PRWEB) June 21, 2012
The City of San Marcos website at http://www.sanmarcostx.gov has a new look and an easier system for users to access key services and information. The new website went live May 9.
"Our website is an important entryway to the San Marcos community and a significant asset for economic development," said City Manager Jim Nuse. "Our goal in developing the website is to improve customer service and government transparency —and make it easy to navigate and find information."
The new website provides multiple points of access to information from the home page, such as online bill payments, jobs, community information, departments, news, calendars, events and contacts.
New features include:

Email notifications when news and calendar items are posted City staff and service directories
A dynamic home page with constantly updated news and calendar items
A mobile site optimized for smart phones and other mobile devices
Improved design that reflects the unique character of the community
Emergency homepage alerts Interactive forms, polls and surveys
Printer friendly pages
Links to City social media accounts
Americans with Disabilities Act (ADA) compliant
City staff will be demonstrating the new website to community gatherings and organizations in the coming weeks. Staff provided a sneak preview of the site in late April with Open San Marcos and demonstrated the site at the May 1 City Council meeting. Community feedback has contributed significantly to the development of the site.
The City of San Marcos started its website in-house in 1995. This is the first major overhaul and redesign since its inception. The staff team worked with Vision Internet, a nationally recognized website developer for municipal governments, to build and design the site and provide a new content management system.
About Vision Internet:
Vision Internet is the leader in government website development with over 400 clients across the US and Canada. For over 16 years, Vision Internet has been creating industry-defining websites built on leading technology including the government content management system, the Vision CMS™. Widely recognized as the government website experts, the company has earned hundreds of prestigious industry awards for its unique websites.