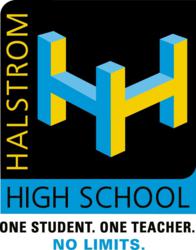 "I like Halstrom's online program because when I meet with my teachers, I actually get to see and talk to them."
San Diego, California (PRWEB) June 15, 2012
Halstrom High School student Andy Zhang, age 14, is the youngest golfer to play in the 2012 U.S. Open. While competing on the professional golf circuit, Andy keeps up with high school by attending online classes through Halstrom's San Diego campus, which gives him the flexibility to both play golf and focus on his studies. Andy is just one of more than 15,000 students, including Olympic skater Sasha Cohen, television actress Blake Lively, and professional skateboarder Ryan Sheckler, who have been able to achieve educational success through Halstrom's flexible scheduling and proven one-to-one educational model since 1985.
"I practice golf all day, so attending a regular school wouldn't work for me, said Zhang. "I travel frequently for tournaments, and in a regular school I would have to miss class. Halstrom is great because I get to make my own schedule, and attend class wherever I may be."
In 2011, Andy and his parents found Halstrom High School, a WASC-accredited, UC/CSU certified and NCAA approved high school that offers classes online and at any of the six Halstrom campuses located throughout Southern California. Halstrom provides a proven pathway to success through its one-to-one educational program, and prepares students for life beyond high school. Halstrom High School's one-to-one teaching allows teachers to instruct students in the style they learn best and helps them master content through active learning and discussion with their teachers. This year's college prep graduates had a 100% success rate for getting into four-year universities of their choice, including University of Southern California, University of Mississippi, University of Washington and University of California, Berkeley.
"I like Halstrom's online program because when I meet with my teachers, I actually get to see and talk to them." said Andy. "We share our desktops and meet via webcam. And because of this I can ask questions and get immediate answers and feedback in real-time from my teachers."
At Halstrom, students learn how to work independently and manage time efficiently. "Halstrom and golf are very similar – they both require independent learning, I think this helps me focus on my goals and pushes me, with no one else's help, to excel in and outside of the classroom." said Andy.
"Supporting and celebrating each student as an individual, understanding that each student will learn differently, and providing the opportunity each student deserves to maximize their potential is what Halstrom does best," said San Diego County Regional Director Evelyn Nichols.
Halstrom High School is currently enrolling for full- and part-time summer and fall programs at its five campuses or online. For more information, visit http://www.halstromhs.org or call 888.HALSTROM.
About Halstrom High School
Since 1985, Halstrom High School's one-to-one teaching model has helped more than 15,000 students in grades 7- 12 achieve educational success. Halstrom High School seeks to break away from the traditional classroom structure by providing high-quality, full-time and part-time one-to-one education focused on content mastery, a technology-supported curriculum, and flexible schedule and enrollment options. Halstrom is accredited by the Western Association of Schools and Colleges. It offers more than 150 courses including an AP program, 67 U.C./C.S.U. certified courses, and 66 NCAA approved courses, An in-depth college and career planning program prepares students for life beyond high school and has helped many students go on to prestigious universities such as the UC system, Pepperdine, Stanford, Duke and NYU. Halstrom offers open enrollment, and courses are offered year-round in person at five campuses located in Anaheim Hills, Carlsbad, Huntington Beach, Mission Viejo, Redondo Beach and San Diego, or via webcam through an online program. For more information visit http://www.halstromhs.org.