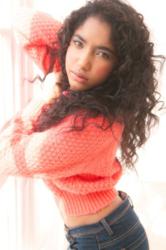 Here come the girls
London, UK (PRWEB UK) 18 June 2012
'If you're a model and you're female, then our website is the place to get you noticed,' promises Jim Dawson, Chief Press Officer for UK Model Agencies.
The winning website showcases the latest female models trying to make it in the industry and as the UK's biggest directory for online model agents, the new portfolios added daily show that this is the site to be seen on for any aspiring female model.
'We have so many female models at the click of a mouse and whether you're a model agency looking for fresh blood, then knock yourselves out and study our gorgeous gals because our ladies at UKMA are top of their class.'
http://www.ukmodelagencies.co.uk attract over 20,000 unique visitors a month and with pages added daily, the website is a fantastic place for all things modelling.
'We pride ourselves in finding out all the latest modelling information, the casting jobs as they come up, but also somebody at the other end of an e-mail or phone who can offer models advice instantly,' says Helen Stark, fashion editor for UK Model Agencies. 'Having joined forces with our partners La Mode who are specialists in creating the most stunning portfolios, our team here, then turn them into winning websites and showcase them not only on La Mode's website but also on ours.'
Last week saw the whole seven days celebrating the male models chosen at random from their books and this time it's all about the ladies.
'We have the stunningly gorgeous, the perfectly flawless and the archetypal glamorous,' continues Helen. 'We also have the models with imperfections, the glamorous older model or the fresh faced younger model - the atypical, the unusual, but all have the very essence of femininity, the matronly and the chic.' She laughs,' we also have a diva or two,as well as having females from all over the world and of course our own English Roses.'
Not only do UK Model Agencies showcase all the models continually rotating and refreshing the pages so each model gets their chance at the front cover, but they boast their knowledge and model advice is the best for miles around and that they can find the right female model for any model agency.
'It could be your face on the front page of UK Model Agencies, entices Helen. ' If you have got what it takes then why don't you Iook up the competition, see who else has been brave and offered up their services and hopefully this will spur you on to have a go yourself. You never know, this time next year, you could be enjoying your own successful female modelling career.'
View the latest female models gracing the pages of UKMA at http://www.ukmodelagencies.co.uk