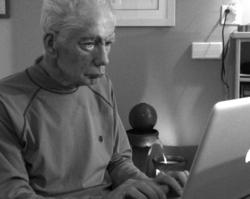 Eadon is a true pioneer in this digital serialization, offering his online readers the intrigue of co-authoring a novel with him.
Tustin, California (PRWEB) June 18, 2012
Serialized novels have been around since the form's beginnings, but never has an author invited reader participation in writing a story like Jack Eadon now welcomes for the rewrite of his novel "A CONSEQUENCE OF GREED."
On June 1st, Tustin author Jack Eadon began to serialize the second book in his rewritten American Drama Series, each volume of which places one of the Seven Deadly Sins in a modern context. In "A CONSEQUENCE OF GREED," the sin of greed, relevant today because of the current economic crisis, will unfold chapter-by-chapter. Eadon will issue a new chapter every month or two. Meanwhile his online "Readers Club," which is international in scope and still growing, will provide feedback after he completes each chapter. While Eadon may not incorporate every reader suggestion, he will listen, thus creating an interactive experience for both writer and readers. And readers who read all "webisodes" will receive a free copy of the book when Eloquence Press publishes it in 2013. That's an offer no reader can "readfuse."
Eadon, who boasts of being the "world's most famous unknown author," joins a line of famous authors by serializing. In the mid-nineteenth century, Charles Dickens and other authors serialized their novels in magazines. The monthly intervals between installments allowed people to speculate and worry over their characters. Victorian readers often wrote authors with suggestions for favorite characters' lives. In the twentieth century, book serialization inspired movie serials and weekly television programs, with the tradition carried on notably by Tom Wolfe's "Bonfire of the Vanities" in "The New Yorker," Hunter Thompson's "Hell's Angels" in "The Nation," and Truman Capote's "Answered Prayers" in "Esquire Magazine."
With the onset of the twenty-first century, online serialization has made its debut. Eadon is a true pioneer in this digital serialization, offering his online readers the intrigue of co-authoring a novel with him. And what a novel to help create! In "A CONSEQUENCE OF GREED," Marcus Ramsay is transferred to a Texas Town infected by greed. Marcus must learn how to mitigate the greed around him, all the while being "possessed" by the spirit of the great James Post, who was murdered in a well-planned brake failure in the series' first novel "HEAD TRIP."
When asked to comment on why he seeks reader participation Eadon stated, "The series is a strong idea and captures the core of what drives us as human beings. Serialization will help me incorporate "real time" reader feedback as I write . . . GREED. I'll learn a lot about the experience readers are having."
About the Author
Jack Eadon's rich and diverse life has inspired his American Drama Series, each novel highlighting one of the Seven Deadly Sins as it relates to modern American culture. As a young adult, Eadon wrote songs with a moralistic drama theme for the band Khazad Doom. In 1974, Eadon earned an MBA and entered the corporate world. In 1983, he opened his own business in southern California. Today, Eadon is a full-time writer who lives with his executive wife, their cat, Caspurr, and dog, Pookie. Always ready for a new adventure, Eadon is now serializing his novel "A CONSEQUENCE OF GREED" in bi-monthly "webisodes."
"A CONSEQUENCE OF GREED" will be published in 2013 and be available online at Eadon's website and at other popular booksellers. For more information, visit http://www.EadonBooks.com. Publicity contact: Robert Smith, Champion Media Worldwide http://www.ChampionMediaWorldwide.com.