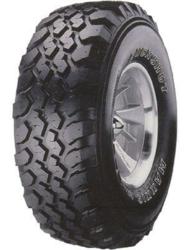 This tire offers a extremely aggressive tread pattern as well as a rugged and tough sidewall meant to handle the most extreme terrain
(PRWEB) June 15, 2012
The Maxxis Buckshot Mudder has a reputation for being an excellent tire for the off road enthusiast. However, it has been very hard to find in recent years. Available almost exclusively to stores in the Midwest, it has been a very difficult tire to find. Luckily online tire retailer, SimpleTire.com is now offering the line. They carry almost all of the various size fitments and have them on sale at a great price point.
The MT-754 Buckshot Mudder is perhaps Maxxis' most popular off-road tire. This tire offers a extremely aggressive tread pattern as well as a rugged and tough sidewall meant to handle the most extreme terrain. In addition, the Maxxis Buckshot Mudder features unique self-cleaning lugs that ensure maximum traction at all times. Some of the other features include:

Double steel-belted radial construction for long-lasting wear and uniformity.
Jointless spiral-wrapped full nylon cap for added strength and stability.
Extra strong, durable casing helps resist punctures and abrasions.
Premium rubber compound with tread siping delivers maximum control in various weather conditions.
The Buckshot Mudder Tire is pinned for studs.
So if you have been looking all over for those perfect Maxxis Buckshot Mudder Tires for your vehicle, your search is over, and SimpleTire.com has you covered.