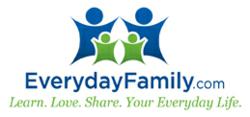 Los Angeles, CA (PRWEB) June 15, 2012
Leigh Koechner, the host of The EverydayFamily Room, appears with her husband, David Koechner, actor and comedian, for a Father's Day special airing today. To catch the comedic duo, together for the first time on EverydayFamilyTV, as they discuss Father's Day, gifts, go-karts and more, go to EverydayFamily.com (EF).
"You won't want to miss this; Leigh and David are fantastic together," said Shiloh Johnson, Director of Content for EF. "They had great Father's Day advice for our members, and they were unambiguous with their message: family memories are what really bind people together. Our site is a major resource for expecting and current parents, and it's our hope that each guest appearance chosen for EverydayFamilyTV continues to benefit our members."
David has appeared on Saturday Night Live and Late Night with Conan O'Brien, in numerous films and comedy shows, and he frequently performs in Los Angeles at the ImprovOlympic West theater. David and Leigh have five children.
The EverydayFamily Room features numerous parenting experts, selected for their diverse, unique and life-enhancing information, as part of its online TV programming.
About EverydayFamilyTV and EverydayFamily.com:
EverydayFamilyTV (EFTV) brings a daily dose of interactive parent talk with the launch of its first program, The EverydayFamily Room with Leigh Koechner, produced by its Emmy and Grammy award-winning production team. The online TV programming featured on EverydayFamily.com (EF) aims to bring EF members the very best information and entertainment through the knowledge of parenting experts, industry experts, celebrity parents and "Everyday" moms and dads.
EF is an online home and established resource to a growing community of over three million members who share their own everyday parenting experiences with those who are seeking guidance and support as they move through their family's journeys, from preconception, to preschool and beyond. The editors at EF, as well as the entire EF community, are dedicated to providing daily content for families seeking expert and parent advice, information and support… and to giving back to the communities supporting us.
For advertisers looking for sponsorship opportunities and creative integration that go well beyond banner ads and transition marketing messages in to an uninterrupted part of the user experience, contact Tony Golden, Business Development Director for EverydayFamily.com, at Tony(dot)Golden(at)EverydayFamily(dot)com.