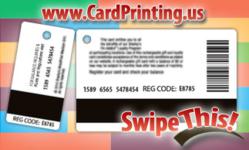 (PRWEB) June 17, 2012
Tele-Pak's KT-1 is a plastic card (also known as a CR-80) with a detachable key tag portion. Traditionally, when this product and other products similar to it have a magnetic stripe, only the card portion could be encoded. That is not the case with Tele-Pak's KT-1 card and key tag product. Tele-Pak can independently encode both portions of the combination and do it economically and expeditiously.
In addition to the magnetic stripes being independently encoded, the KT-1 card and key tag combinations can be ordered with variable data, bar codes, QR Codes, signature panels, matte writeable backs and active labels.
Industries that use key tags, plastic cards or the card and key tag combinations should take note of this announcement -- particularly retailers, grocers, gyms, health care insurers, libraries, educational institutions, service industries and the auto industry.
"No one else in plastic card printing is doing this. It's an exciting new production line modification. I look forward to seeing this feature being in everyday use across all industries," says Jack Steinmetz, President of Tele-Pak CardPrinting.US Inc. "Our customers are thrilled with the orders they've received."
Those who are interested in receiving more information can request quotes and samples and get more information from http://www.cardprinting.us. Be sure to note "Independent Encoding" in any quote request online or with a Tele-Pak sales representative. Call us or use the "live chat" feature.
Card-Printing.US is a part of the Tele-Pak CardPrinting.US Inc family of web sites for plastic printing needs. Tele-Pak Inc. is located in Monsey, NY has been a worldwide leader in the plastic printing industry since 1996, producing all kinds of plastic cards: gift cards, plastic key tags, scratch cards, phone cards, fundraising cards, membership cards and point of sale activation (POSA) cards. Corporate information can be found at http://www.tele-pak.com.