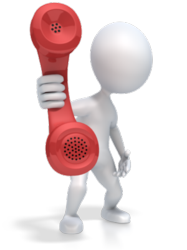 The goal of Digital Media Training's sales training is to increase revenue, shorten the sales cycle, increase sales activity and improve forecasting accuracy.
New York, NY (PRWEB) June 15, 2012
Digital Media Training introduces four key principles of prospecting by phone. Think about this for a minute…every single time someone is called on the phone, there is already someone else's bad reputation as a phone prospector that must be overcome. Internalize and implement these four principles into prospecting calls: Be Simple, Be Honest, Be Direct and Be Conversational.
Now, since effective prospecting is usually such a critical factor to both the individual's success and the team's success, look at these four principles from the perspective of somebody who's trying to identify new revenue opportunities over the phone.
And as it turns out, it's absolutely essential to learn and practice these four principles while prospecting. Why? Not just because these principles are ethical and intuitively right ... but also because so many other salespeople have abused the privilege of calling. In fact, so many other bad salespeople have called potential customers, that the people being called right now already know all the very worst sales practices for beginning a business relationship.
1. Be Simple: Master the art of communicating effectively. Work hard; do research ahead of time and simplify the message for the prospect so that it's powerful and easy to comprehend in just an instant.
2. Be Honest: Do not lie. Be Honest. Customers are expecting lies, so tell the truth. It may be surprising how often telling the truth will generate a good conversation.
3. Be Direct: Get to the point. When connecting with a prospect, clearly identify "the reason for this call is…" The longer the call goes without clearing that question up, the more suspicious the other person will be. And of course, they are already suspicious just because of the salesperson title.
4. Be Conversational: Be enthusiastic. Be passionate. Make calls as if a great relationship has already been established and it sounds like a real conversation.
Aim to be in the top five percent when making prospecting calls. The best way to do that is to keep it simple, be honest, direct and conversational.