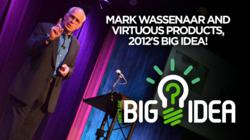 "This competition, even if I didn't win, it would have been an unbelievable opportunity because the competition really helped me along the way," Mark Wassenaar, CEO of Virtuous Products.
Knoxville, Tennessee (PRWEB) June 15, 2012
Judges crowned Mark Wassenaar, the founder of Virtuous Products, Inc. as the winner of this year's What's the Big Idea!? Business Plan Competition Thursday night, sponsored by Rodefer Moss & Co.
Virtuous Products has developed a unique material that is ideal for flooring, counter tops, and outdoor casual furniture called Sedonite. Using recycled glass, Sedonite offers the strength and look of resin or cement-based competitors but at a much lower cost.
"We were impressed by all the entrepreneurs who took part in this competition," Todd Napier, executive vice president of The Development Corporation of Knox County and co-presenter of the program with the Knoxville Chamber and Tech20/20 said. "Virtuous Products shows an enormous amount of promise and the judges indicated they expect big things from the start-up in the years to come."
Virtuous Products started in the competition in April by submitting a simple business plan. From there, each of the 12 quarter-finalist companies attended a series of Idea Launch seminars with a focus on solidifying business plans in a format that would entice investors. In all, Virtuous Products survived four rounds of judging that included both written summaries and in-person presentations. Wassenaar is a Lenoir City resident and would like to start manufacturing operations in Knox County.
DineTouch, a start-up that allows restaurant patrons to order food directly from their smartphone and LineShark, a start-up offering professional audio input and output to any mobile device, provided worthy competition as finalists.
"I've been in manufacturing my whole life. I try to get out but it just keeps coming back because there is so much creativity involved. I literally lie awake at night thinking of new ideas," Mark Wassenaar, the founder and CEO of Virtuous Products said. "This competition, even if I didn't win, it would have been an unbelievable opportunity because the competition really helped me along the way."
Wassenaar has plans to use the prize money to purchase a glass crusher, which will allow him to take recycled beer bottles and smash them into a sand-like consistency. From there, his company takes the material and can put it into a molding with a proprietary bonding agent that creates a faux stone surface that is as strong and less expensive than most competitors on the market today.
In all, Virtuous Products wins a prize package that includes:

$10,000 grant for start-up costs
$15,000 potential investment: Tech 20/20 Venture Start-up Fund
One-year's rent at the Fairview Technology Center
Accounting services provided by Rodefer Moss & Company
Business coaching provided by CEO Advisors
IT Hosting/Services by The IT Company & Digital Crossing Networks
Legal Services by Kathleen Zitzman
Chamber membership by the Knoxville Chamber
Business coaching by Tech 20/20
About the Knoxville Chamber:
The Knoxville Chamber is the region's leading business organization with more than 2,000 members that employ more than 276,000 individuals. More than 80 percent of Chamber members are small businesses with 50 or fewer employees. It fulfills its mission of Driving Regional Economic Prosperity by recruiting new businesses and supporting existing companies, and serves as the lead economic development agency in the Knoxville-Oak Ridge Innovation Valley. The organization has an active government advocacy program and supports pro-business policies. Members receive marketing, networking, professional development benefits, and many other cost-effective services. For more information visit http://www.knoxvillechamber.com.