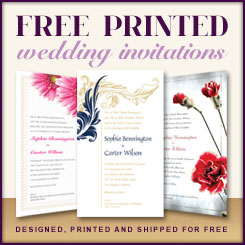 PartyPOP.com features over 2 million highly accomplished and professional companies in the event planning industry.
(PRWEB) June 17, 2012
PartyPOP.com recently announced free wedding invitations and an RSVP website for any engaged couple in the United States, Canada and the United Kingdom. The company has re-purposed their 2012 marketing budget in hopes of building brand awareness and loyalty. According to reports from within the Southern California based company, it's working.
PartyPOP.com features over 2 million highly accomplished and professional companies in the event planning industry including: The Big Boss Group, Maui Wowi Hawaiian, and Bee-Line Entertainment.
The Big Boss Group is a new and innovative ice cream truck company in the greater Pittsburgh, PA area. With LED lights, a digital menu, premium outdoor sound systems, color changing ground effects and strobe lights, the company is reinventing the wheels that lost its luster long ago. The group says "our trucks should have huge personalities and should stand out to attract people of all ages and backgrounds" . Ultimately, the Big Boss Group serves sweet treats from their sweet ride. Specializing in birthday parties, car shows, block parties, wedding receptions, private and corporate events, the company's mission is to "sling some delicious treats and make people happy…". More information can be found online at http://www.partypop.com/v/4396246/
Maui Wowi Hawaiian has grown into a wildly successful franchise system with over 605 domestic franchise operations in 48 States and 9 countries worldwide; one of which is located in Baltimore, Maryland.
Maui Wowi Hawaiian was founded in 1982 by Jeff & Jill Summerhays, Maui Wowi Hawaiian was established to provide their 'Ohana (family) a healthy alternative to the sugar and fat laden foods that seemed to be everywhere. Smoothie Xpress Hawaiian Fresh Fruit Smoothies proved to be so popular, that they set out to bring Hawaiian coffees to the Mainland. They have now evolved into a distinct brand that offers the best of the Hawaiian Islands. Anywhere people gather, Maui Wowi Hawaiian is connecting to the mind, heart, and soul of our customers in the true, 'Aloha Spirit'! More information can be found online at http://www.partypop.com/v/4398497
Bee-Line Entertainment is a full service DJ Entertainment company serving New York City and Northern New Jersey. Bee-Line Entertainment works hand in hand with Sound Explosion DJ's, one of the Tri-State areas Premier DJ Entertainment companies. Sound Explosion DJ's perform at hundreds of successful events every year with some of the most experienced DJ's in the business. The DJ's at Sound Explosion are true entertainers, not only playing music at parties, but also singing, dancing and performing a fully interactive show for clients and their guests. Sound Explosion has experience with different types of events including weddings, sweet 16's, communions, corporate events, and block parties. The company's DJ's are familiar with a wide range of genres from 1950's music to today's hottest selections.
Sound Explosion has a wide variety of packages for clients to choose from in order to satisfy their desired outcome. With everything from basic DJ set-up to elaborate DJ set-ups with video screen walls and high end club lighting systems, the company offers it all. Giveaway packages and interactive dancers are also offered to dress up the party's atmosphere. More information can be found online at http://www.partypop.com/v/2043771
PartyPOP is the largest party, wedding and event planning online network.
Before the Internet era, the professionals at PartyPOP.com were successful hands-on party planners and special event producers. For more than a decade PartyPOP has translated 30 years of party planning experience onto the Internet. Millions of vendors are listed on the network consisting of 60+ websites and tens of millions of customers have used the network to plan their parties, weddings and events. PartyPOP.com also provides party and event related tips, themes and ideas, as well as a free full wedding planning software called Seating Arrangement.
About Free Printed Invitations by PartyPOP.com:
PartyPOP provides every bride and groom across the USA, Canada and the U.K. with free beautifully designed wedding invitations, printed on 80lbs card stock paper with matching envelopes and wedding website. Even door to door shipping is included at no cost. There are no hidden fees, no obligations to buy and no strings attached!