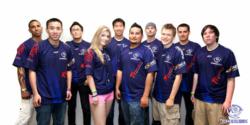 We are now proud to have a partner that understands just how valuable high quality merchandise is in the ever-growing Esports community
Philadelphia, PA (PRWEB) June 20, 2012
CheckSix Gaming has named the Rush Order Tees custom t-shirts brand as an Official Premier Sponsor of the popular professional e-sports team. The Company will also provide event apparel for the team and has already produced officially licensed custom tees and custom hoodies for several recent high-profile gaming competitions in the growing e-sports space.
As a Printfly brand, Rush Order Tees is far from new to working with high-profile and high-performance clients. Just a short glance at the Company's client list boasts corporate giants Google and Microsoft plus celebrity clients, networks and production companies spanning HBO, the Oprah Winfrey Network and NBC as well as highly publicized federal agencies and global charities including the Breast Cancer Research Foundation, HumanKind Water, and the US National Institute of Health.
Business Development Director of CheckSix Gaming, Curt Carter, provided a bit of backstory to the announcement. "We found RushOrderTees much like any other person would through various search engines and personal recommendations. I can personally say we are very glad we did. Not only were they able to deliver our custom t-shirts and hoodies on time for our events, the quality is unmatched by any other company we have worked with before. We are now proud to have a partner that understands just how valuable high quality merchandise is in the ever-growing Esports community and that shares our vision for the future."
As the supplier of officially licensed CheckSix event apparel, Rush Order Tees will help foster faster growth and development of the e-sports industry while highlighting CheckSix Gaming's key team members and accomplishments.
"CheckSix is a premium brand in a rapidly growing space." Explained Printfly's Vice President of Marketing and eCommerce, Ron Reed. "'Excited' doesn't begin to express our level of enthusiasm for this alliance.
"The team has a substantial, very loyal and socially active fan base. The fans have already seized this opportunity to spread the word about new looks our print and design teams have produced collaboratively with Check-Six. Actively taking to Facebook and Twitter, they've voiced both their support and desire - with enthusiasm and clarity - for more officially licensed CheckSix gear.
"There's no question the e-Sports arena is growing and reaching a boiling point with demand for licensed apparel increasing. Allied with high quality partners like CheckSix Gaming, we're committed to delivering high quality apparel and other licensed items, offering value to consumers and teams while enhancing fan engagement in this evolving market."
--
About CheckSix Gaming
CheckSix Gaming is a professional multi-gaming organization founded in 2003 by Rich Howard. CheckSix teams have participated in many high-profile gaming competitions such as WSVG, CPL, CGS and MLG. CheckSix has also participated at the highest levels of online leagues such as CEVO, CAL and TGL.
The team has encompassed many different games throughout its history and has always attempted to be a forerunner in support of all gaming communities big and small. The most notable teams that have gained popularity under the CheckSix name are the Tekken 6, Counter-Strike, Counter-Strike: Source, and Call of Duty teams.
Learn more about CheckSix Gaming at http://Check6Gaming.com/
--
About Rush Order Tees | Printfly
The Rush Order Tees brand was established in 2001 as a specialized wing of the Printfly custom printing company to focus on efficiently printing and delivering custom made t-shirts to serve consumers in need of "rush" service.
Over the past decade, the Rush Order Tees brand and service has grown in popularity beyond all projections to be a national leader in the custom apparel industry. Having evolved to serve both rush and non-rush standard delivery customers, the brand has become equally synonymous with quality and value as it originally was with speed.
Built on repeat business and referrals from satisfied customers, both Printfly and Rush Order Tees have grown to become major players in the space serving such high-profile clients as Google, Microsoft, the Oprah Winfrey Network, NBC, the US National Institute of Health, and multiple federal agencies and high-profile global charities.
Their customers - both consumer and organizational - have voiced their well-earned allegiance and appreciation across leading consumer review sites, social networks, and the Better Business Bureau where the Company holds an A+ Accredited Rating.
Learn more about Rush Order Tees at http://www.RushOrderTees.com/
Contact Rush Order Tees at (800) 620-1233