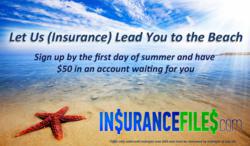 We want agents to enjoy their summers and not waster time cold calling but to use their time wisely with insurance leads. Audrey Lee.
Encino, CA (PRWEB) June 15, 2012
Lead generation firm InsuranceFiles.com celebrates summer by offering agents new to the company $50 worth of credit if they sign up by midnight of the first day of summer, June 20th.
This credit must be used by midnight of July 4th otherwise the offer expires. However, the credit can be used on any product that InsuranceFiles.com carries, including a wide variety of exclusive and shared leads that can be filtered to the preference of each agent.
The goal of this promotion is to remind agents that they can indeed enjoy more of their summer with the help of InsuranceFiles.com. One of the best tools available to do this is insurance leads. These leads are designed as an instrument to save agents time and improving their workflow. Simultaneously, this promotion is designed to expose agents to InsuranceFiles.com's unique brand of insurance leads.
As an alternative to traditional marketing methods that are both time consuming and often highly ineffective allowing for little to no free time, insurance leads act as an expedited method for acquiring customers.
Although insurance leads and summer may not seem like a common combination at first glance, they actually complement one another very effectively. Using insurance leads frees up time to enjoy summer.
InsuranceFiles.com is dedicated to making the lives of insurance agents easier, and this promotion is a natural extension of their mission to save agents time while helping them grow their agencies.
http://www.insurancefiles.com/insurance-leads/auto-insurance-leads
###
15503 Ventura Blvd.
Encino, CA
91436