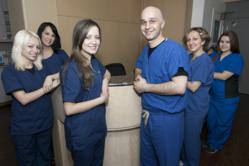 Many times patients are unable to visit us in our office for a number of different reasons
San Francisco, CA (PRWEB) June 18, 2012
San Francisco dentist, Dr. Samer Itani of Itani Dental, will appear on KRON 4 News today, June 18, and periodically during the upcoming months with segments about Itani Dental's Bay Area in-home dental visits (Dentistry to Your Door) and sleep and sedation dentistry services.
"Many times patients are unable to visit us in our office for a number of different reasons," said Dr. Itani. "We get calls from parents, relatives or caregiverswho want us to provide home care dentistry services because it's much simpler to treat certain patients in their homes."
In a previous KRON 4 segment that aired last month (http://youtu.be/4egeqPqwSXU), Dr. Itani discussed similar topics. During tonight's segment Dr. Itani will demonstrate his "Dentistry to Your Door" services in a live visit with an immobile and wheelchair-bound patient who receives a comprehensive dental exam and digital check-up x-rays.
Accompanied by his dental hygienist and portable equipment, Dr. Itani can perform a variety of services during his home care visits, including general dentistry (like exams and cleanings), digital x-rays, fillings, oral cancer screenings, removal of infected teeth and denture repair.
Lea, the patient featured in tonight's segment, has been treated by Dr. Itani since 2007. Her rheumatoid arthritis progressed to such a serious degree that she experienced debilitating motion limitations and Sjogren's syndrome. Sjogren's syndrome results in dry mouth, or xerostomia, that can be so severe that it leads to rampant tooth decay.
"Patients with conditions such as rheumatoid arthritis often experience immobility issues that cause suffering when sitting for a certain period of time, or during traditional transport and movement to a doctor's office for treatment," said Dr. Itani.
A couple of years ago, Lea tried to reach treatment at Dr. Itani's office, but was unable to get from her car to the office, even with assistance. On that occasion, Dr. Itani examined her in her car. In tonight's segment, Lea gets an exam, x-rays and follow-up to be sure no further cavities have developed.
For patients who require extensive work or anesthesia, Itani Dental can arrange transportation from their home to a hospital setting, or to the Itani Dental office, depending on their special needs. Dr. Itani provides his unique Dentistry to Your Door services throughout the Bay Area, from San Rafael to Concord to Walnut Creek to San Jose.
Candidates for in-home care range from the homebound elderly or those in a nursing home, to people who are in the hospital or wheelchair bound, patients with special needs such as cognitive or physical disorders, and patients who struggle with dental phobias.
In-Home Candidates:

Elderly
Immobile
Special needs children and adults
Patients with dental anxiety or phobia
Agorophobics
Patients with Alzheimer's and dementia
Itani Dental also provides mobile dental screening for individuals and groups (senior centers, skilled nursing homes, assisted living communities, residential centers and memory care units), and delivers personalized assessments and coordination with case managers, caregivers, nurses and senior care facilities.
For more information about Itani Dental's San Francisco dental services and in-home dental visits, call (415) 830-9631, visit http://www.itanidental.com, or stop by 450 Sutter Street, Suite 2318 in San Francisco, California.
Become a fan of Itani Dental on Facebook at facebook.com/ItaniDentalSanFrancisco and follow them on Twitter @ItaniDental to stay up to date with the San Francisco dentist's latest offers, promotions and news.
About Itani Dental
Itani Dental is a leading and experienced San Francisco dental practice specializing in the special needs and phobic niche of dentistry. For over 10 years, Itani Dental has offered cosmetic dentistry, dental implants, Invisalign braces, sedation dentistry, senior care dentistry, home care and house call dentistry and emergency dentist services in the San Francisco Bay Area.
Conveniently located downtown close to San Francisco public transportation, the wheelchair accessible dental office of Dr. Itani is fit for special needs patients and is constantly updated to the latest technology and standards of practice.
Dr. Itani offers sedation dentistry for San Francisco Bay Area patients with dental phobias and cognitive, developmental, or physical disabilities to ensure they receive the most predictable dental care possible. He also has 24-hour emergency, weekend, and evening dentist appointments available in the Bay Area.
To learn more about dental services provided by Itani Dental in San Francisco, or to schedule an appointment, call (415) 685-0011.