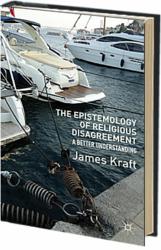 James Kraft has produced a wonderfully readable treatment of a timely and important topic. (Duncan Pritchard)
New York, NY (PRWEB) June 19, 2012
This new book by James Kraft, entitled Religious Disagreement, shows exactly how religious disagreements challenge the ability to hold on to religious beliefs: The opponent in either an ordinary or religious disagreement asserts the other has made a mistake. To avoid mistakes people strive to have good justification for religious beliefs which holds them connected to them during difficult challenges, similar to how a good boat tether—see the picture on this book's front cover—holds a valuable boat throughout the many stresses placed on it. The problem is that an equivalently informed and capable opponent shows a possible mistake as relevant, and this ought to reduce confidence in the justification of the religious belief. The book develops, by looking at foundational issues in the theory of knowledge, an understanding of justification specifically designed to describe best exactly why this reduction happens. The book brings down to earth the best scholarly research on this topic in the fields of religious epistemology (this word just refers to the study of how people know), religious knowledge, philosophy of religion, and the epistemology of disagreement. More information at the book's website: philosophical-religious-knowledge.com.
Here is the conclusion of the book stated in its introduction: Good justification for a religious belief holds one's belief secure in one's possession across a large number of possible challenging situations by anticipating and avoiding error possibilities, much as a good boat tether—see the picture on this book's front cover—holds the valuable boat throughout many weather and water conditions. Yet the justifications for religious beliefs aren't totally adequate for the extremely challenging conditions that occur during peer religious disagreements where confidence in the justification of one's belief is, consequently, reduced. One of the biggest challenges for holding on to a religious belief is disagreement. A good disagreement tests whether the justification of a religious belief is strong enough to hold one to the belief. Similarly, the tethers of the boats pictured on the book's front cover would not hold during an earthquake. The full title of the book published by Palgrave/Macmillan is The Epistemology of Religious Disagreement.
This book represents a continuation of a conversation starting in the 1980s (among people like Alvin Plantinga, John Hick, Philip Quinn, and William Alston) about the challenge of religious diversity. Around 2005 philosophers (David Christensen, Thomas Kelly, Richard Feldman, and many others) began intensely to discuss the epistemology of everyday disagreements. And recently people like Jennifer Lackey, Michael Bergmann, and John Greco have been applying tools developed in epistemology to talk about religious disagreements, religious epistemology, and religious knowledge. This new book uses the tools developed among philosophers starting around 2005 in order to shed light on the earlier conversations about the challenge of religious diversity and religious disagreement.
Here is what two of the most well respected scholars in the field say about the book:
Duncan Pritchard, Chair in Epistemology, The University of Edinburgh: "James Kraft has produced a wonderfully readable treatment of a timely and important topic. Anyone reading this book will learn a great deal, not just about the epistemology of religious disagreement, but also more generally about what is going on at the cutting-edge of contemporary epistemology. A fine book, and a delight to read."
David Basinger, Professor of Philosophy, Roberts Wesleyan College: "James Kraft's main goal – to explore constructive ways of managing epistemic disagreement in general and religious disagreement in particular – has never been more relevant. I'm impressed with his ability to simplify the concepts he discusses without sacrificing philosophical rigor. This book will be of value for those interested in epistemology, philosophical theology, or philosophy of religion."
James Kraft is Associate Professor of Philosophy and Religion at Huston-Tillotson University in Austin Texas. He has published and lectured extensively on the topic in a diversity of scholarly journals and venues. His areas of specialty are epistemology, philosophy of religion, world religions, the epistemology of disagreement, and religious epistemology. The author is available for interviews and talks (kraftjames [at] yahoo [dot] com).
For more information about the book, including access to its introduction and a code to purchase it at a discount, see the book's website at the address given above. To purchase the book, go to amazon.com, Barnes and Nobles, or the publisher's website for the book, Palgrave/Macmillan, at the following address: us.macmillan.com/theepistemologyofreligiousdisagreement/JamesKraft