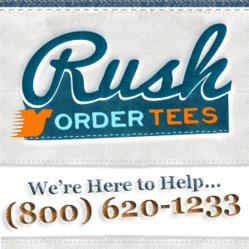 the videos show real employees making real customer's custom t-shirts
(PRWEB) June 22, 2012
Rush Order Tees (a Printfly Company) has added new videos online starring their employees. In these videos, real team mates offer helpful advice and insights into the T-shirt printing universe including step by step walk throughs of the screen printing process, a sped up view of DTG Direct to Garment T-shirt printing in action, a 30 second jet paced whirlwind tour of the production facility around the large equipment that is used to make customized shirts, uniforms, hoodies, and more.
The videos feature employees of all walks of life and levels. Besides serving as an introduction to individual team members and offering a way for more employees to get involved with the Company's online presence, the videos offer helpful insight and information into the custom t-shirts industry.
One video offers a very brief review of the equipment used and the steps involved in the screen printing process. Another covers helpful tips on how to design t-shirts while another shows screen printers in action, operated by real employees making real customer's custom t-shirts.
The videos can be viewed on both the Rush Order Tees website and the Company's official YouTube Channel under the parent company - Printfly. For more details on promotions and events, visit Rush Order Tees Google+ by google searching the term "+Rush Order Tees" or call (800) 620-1233.
--
About Rush Order Tees and Printfly
Rush Order Tees has been in business for over 10 years.
Since it's founding in 2002, Rush Order Tees has expanded its product offering beyond custom printed shirts to include a wide variety of sports, academic, community-driven, commercial and business offerings including company polos, custom business shirts, custom team jerseys, custom printed hats, custom printed sweats, custom college shirts, school jerseys, custom totes, custom aprons, and more.
Necessitated by continuous growth, Printfly acquired a 15,000 SF facility in North East Philadelphia, PA which they equipped with over twenty of the highest quality screen printers, digital printers (DTG Direct to Garment printers), screen exposure units, screen printing heaters and much more.
As the company grew, it continue to offering free nationwide shipping along with "no fee" polices and an industry-leading low price guarantee. Through the years, they've developed a reputation for excellent service, value and quality. Their customers have voiced their allegiance and appreciation across many consumer-driven review sites earning Rush Order Tees overwhelmingly positive online rating and reviews across the leading sites including Google, Superpages, YP.com, and the Better Business Bureau where they hold a certified A+ BBB Rating.
Built on repeat business and referrals from satisfied customers, Rush Order Tees has grown to be a major leader in the custom shirt printing industry.
Contact Rush Order Tees at 1 (800) 620-1233.