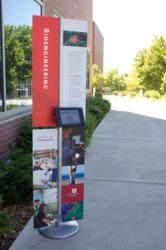 In order to meet the demands of custom projects, we bring on project managers and engage all of our departments, from logistics to marketing...
Sandy, UT (PRWEB) June 19, 2012
Working with school districts, k-12 schools, colleges and universities across the nation, ArmorActive Inc. has helped to secure thousands of iPads and facilitate custom solutions for a wide array of iPad related projects; such as in educational programs, marketing campaigns, information portals and recruiting events to name a few.
"Teachers have seamlessly blended the iPads into their everyday practices. It has become part of the daily ritual of assessing students' needs and targeting those needs in the most effective way possible," stated Sherwood Heights Elementary Principal Laura Shaw.
Recently, the San Diego School District announced plans to introduce more than 25,000 iPads into their K-12 system. In Maine, 285 kids are reading at a higher level because iPads have been incorporated into their curriculum. These large volume iPad deployments are part of a growing trend in education from Kindergarten all the way to Graduate programs. With applications ranging from educational games for children to college textbooks and campus portals, the iPad has surfaced as the ideal tool to lead the education industry into the future; and ArmorActive has surfaced as the overall solution to facilitate the implementation of such projects and programs.
Case Studies:
ArmorActive has worked with universities across the nation from UC Berkley on the west coast to Harvard on the east. With orders ranging from ten to thousands of units, the ArmorActive team has time and again provided their expertise to assist universities and businesses as they role out custom projects involving the iPad in their own educational institution.
At Utah State University in Logan, Utah, custom "Aggie Blue" iPad kiosks by ArmorActive are being implemented at each of their 27 satellite campuses in an effort to keep distant learning students informed and engaged in all the universities updates and events.
With enclosures and iPad stands by ArmorActive, the University of Utah's engineering department is reaching out to high school students and getting them excited about the future of technology within the medical industry by interacting with the students via the iPad and several medical iPad apps.
After running their pilot program in 2010, where the Wharton School of Business at the University of Pennsylvania distributed over 400 iPads to executive MBA students, the University engaged ArmorActive to create ten custom branded iPad holders to be used as a tool for gathering information on campus events.
Applications for iPads in schools or business are varied and unique, "intricacies within each project require that our team understands the customer's needs and how to effectively work with project deadlines and custom requests," according to Kyle Muir, President of ArmorActive. "In order to meet the demands of custom projects, we bring on project managers and engage all of our departments, from logistics to marketing."
Proving to be the ultimate one-stop-shop, ArmorActive is taking iPad customization to a new level in both the educational realm as well as the business world overall. ArmorActive's team members provide a plethora of solutions for needs overlooked by most, such as: back-up battery power, Mobile Device Management software, kiosk applications and travel cases. Once the basics of each project have been covered, the marketing team at ArmorActive also implements branding solutions for each project from custom faceplates to durable marketing panels affixed to each kiosk. Features such as these from ArmorActive can be found on over fifteen kiosks at Career Innovation 2012, a career fair event series making stops at thirteen major cities throughout the country over a year's time. The overall team effort found at ArmorActive makes customization and implementation of these systems seamless and effective.
About iPadEnclosures.com
to iPadEnclosures.com offers the largest selection of iPad kiosk products on the market. Unique in the industry, iPad Enclosures provides a team of Solutions Architects to help customers make the best decisions at all stages of their iPad kiosk projects, from procurement to implementation.
About ArmorActive
Located in Utah's "Silicon Slopes," the fastest growing technology seat in the country, ArmorActive, Inc. is an enterprise-level tablet solutions company that manufactures hardware, builds software, and designs mobile apps to meet customers' needs worldwide. As a parent company iPadEnclosures.com and Pro-Tablet.com, ArmorActive seeks to meet the unique needs of each business, as the world transitions to using tablets as the technology standard.