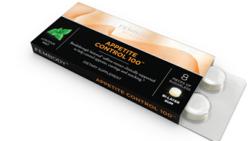 Stay swimsuit-ready all year long with Fembody Appetite Control 100™ Gum with Satiereal®, which helps control hunger and reduce calorie consumption.*†
Tampa, Florida (PRWEB) June 19, 2012
Summer is all about getting out and having fun, but road trips or days at the beach can lead to impulse eating and unhealthy snacking habits. Stay swimsuit-ready all year long with Fembody Appetite Control 100™ Gum with Satiereal®, which helps control hunger and reduce calorie consumption.*†
There has been a lot of buzz about the breakthrough appetite control ingredient Satiereal® Saffron Extract since it was featured on a popular daytime TV health show. Fembody is proud to introduce a novel Satiereal delivery system in an innovative appetite-blocking, dual-layer chewing gum that comes in a refreshing Luscious Mint flavor.*†
In a 2010 eight-week, randomized, placebo-controlled study of mildly overweight, healthy women, Satiereal Saffron Extract was shown to help decrease hunger, as well as reduce sugar cravings and compulsive snacking between meals.*†
Chewing on a piece of Appetite Control 100 Gum for about five minutes twice a day releases enough Satiereal Saffron Extract to help keep snackers away from the cookie jar. Appetite Control 100 Gum may help control hunger between meals and decrease compulsive snacking, thereby supporting steady weight loss when used consistently for 8 weeks. It is stimulant-free and caffeine-free, and can be taken in the evening to avoid late-night snacking.*†
Appetite Control 100 Gum in Luscious Mint is available exclusively at GNC stores and online at gnc.com in an 8-piece pack for $9.99. It contains no artificial sweetener, color or flavor. It is also gluten-free and suitable for vegetarians.
Appetite Control 100 Gum is the perfect on-the-go complement to a weight loss program that includes a reduced calorie diet and exercise program when paired with Appetite Control 100 capsules, as they both contain the same amount of Satiereal.*†
About Fembody™:
Fembody Nutrition delivers unparalleled nutritional support to women who strive to be the best. With naturally derived, premium supplements based on clinically tested ingredients to help support the areas where females desire additional support, Fembody empowers women to support their personal wellness goals by helping them achieve results. Fembody's advanced innovative formulas include scientifically researched ingredients. For the ultimate in health, wellness and beauty, Fembody offers no compromise. To learn more about Fembody's elite line of products, please visit fembodynutrition.com or call 888-778-9110.
Satiereal® is a trademark of INOREAL. International patents pending.
† When used as part of a reduced-calorie diet and exercise program. Results with Satiereal® were obtained after 8 weeks of use.
*These statements have not been evaluated by the Food and Drug Administration. This product is not intended to diagnose, treat, cure or prevent any disease.