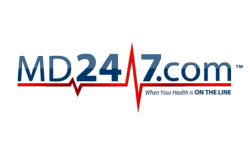 http://md247.com/md247-blog.html
Tampa Florida (PRWEB) June 18, 2012
On Monday June 18th, the MD247 Social Media Team announced that it would officially be carrying all telemedicine blog articles typically run on the website http://md247.com/md247-blog.html. All MD247 blogs had previously been featured on the sites SocialNetgate, Blog.com, Blogger, LiveJournal, Posterous, Tumblr and TypePad.
A blog is a discussion, or information site published on the internet consisting of discrete entries ("posts") typically displayed in reverse chronological order so the most recent post appears first. Until 2009 blogs were usually the work of a single individual, occasionally of a small group, and often were themed on a single subject. Many blogs provide commentary on a particular subject; others function as more personal online diaries; yet still others function more as online brand advertising of a particular individual or company. A typical blog combines text, images, and links to other blogs, Web pages, and other media related to its topic. The ability of readers to leave comments in an interactive format is an important part of many blogs. Most blogs are primarily textual.
The MD247 telemedicine blog discuses all things related to telemedicine, as well as general health and wellness issues.
Telemedicine connects doctor and patient at any time, on any day of the week, across the miles and from home or work and any other location. The doctor's office is really all of time and space.
Largo Florida based MD247.COM (MD247; MD/247; MD 247; M.D.247; MD-247) provides an affordable telemedicine supplement to existing healthcare services. MD247.COM telemedicine program members have unlimited telephone access to a nationwide medical support team, all with just a single phone call to the MD247.COM telemedicine Talk to a Doctor/Talk to a Nurse Hotline. MD247.COM has a virtual platoon of registered nurses; board certified physicians and a support staff available to members for all non-emergency situations. More information about MD247.COM is available online at http://www.md247.com.