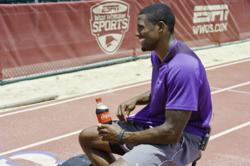 Orlando, FL (PRWEB) June 19, 2012
Moms will be inspired to take their families "on the go with D.O." this summer thanks to a new consumer promotion from Coca-Cola.
Coca-Cola kicks off "On the Go with D.O.," a My Coke Rewards promotion offering a once-in-a-lifetime opportunity for moms to bring 2008 Olympic bronze medalist and 2012 Olympic hopeful David Oliver (also known as "D.O.") to their children's school for an exciting "field day" of athletic activities. In the true spirit of the Olympics, "On the Go with D.O." is designed to inspire African Americans to get physically active with their families and rally the community together to cheer on Oliver in his quest to compete in London for the gold.
"As a long-standing sponsor of the Olympic Games, we are excited to bring an Olympian to spend time with a lucky group of children," said Kimberly Paige, assistant vice president, African American Marketing, Coca-Cola North America. "Providing this unique opportunity is our way of sharing a creative outlet for youth to join in the fun of the Olympics and be physically active."
To participate in the promotion, consumers are encouraged to purchase Coca-Cola and donate points under-the-cap or on the package to their children's school on http://www.MyCokeRewards.com/FieldDay now through August 12. The field day experience will be awarded in the fall. The My Coke Rewards site also includes more information on Oliver and downloads such as screensavers, ringtones and other great prizes.
"I'm excited about the 'On the Go with D.O.' campaign because it truly represents my life," said Oliver from his training base at the ESPN Wide World of Sports Complex at Walt Disney World, the leading multi-sport venue in the nation. "Two things have influenced who I am today – my mom and sports – and that is exactly what this program is about. I have partnered with Coca-Cola to encourage moms to promote the importance of daily physical activity for children. Exercise and organized sports can have such a positive impact on your life."
Additionally, Coca-Cola invites consumers to join the Company in supporting Oliver on his quest to the London 2012 Olympic Games. Fans can send the hurdler their best wishes by submitting a personal photo and brief words of encouragement, including the phrase "Coca-Cola 8-pack" or "Team USA," to http://www.coke.com/cheers. The wish and photo may be shown on Coca-Cola's digital billboard in New York City's Times Square on July 18. Supporters can also ask the track star questions directly by participating in a Twitter party hosted on Thursday, June 21 from 7:00-8:00 p.m. EST. To engage in the conversation, simply post a question and use the hashtag, #DOFieldDay. Participants may receive a personal thank you or tweet from Oliver.
About David Oliver
David Oliver is one of Coca-Cola's "8-pack of athletes" for the London 2012 Olympic Games. In addition to his role as a medal contender for Team USA, he will serve as a Coca-Cola "Ambassador of Active Living" to help encourage and inspire people to lead active, balanced lives.
Oliver competes in the 110-meter hurdles event outdoor and the 60-meter hurdles indoor. He is a 2008 Olympic Games bronze medalist. He is also the 110-meter American record holder. He will compete in the 2012 U.S. Olympic Trials, starting June 21 in Portland, Ore. for a place on Team USA. Oliver is a graduate of Howard University with a bachelor of business administration degree in marketing. His mother, Brenda Chambers, also a hurdler, competed in 400-meter hurdles events.
My Coke Rewards for Schools
The "On the Go with D.O." promotion is an extension of Coca-Cola's My Coke Rewards for Schools program, which provides local schools and students with the tools and supplies they need to learn and thrive. When My Coke Rewards participants donate points to an eligible accredited school (K-12) in their community, the points become items students really need – such as athletic equipment, classroom supplies, learning aids and more.
The Coca-Cola Company
The Coca-Cola Company is the world's largest beverage company, refreshing consumers with more than 500 sparkling and still brands. Led by Coca-Cola, the world's most valuable brand, our Company's portfolio features 15 billion dollar brands including Diet Coke, Fanta, Sprite, Coca-Cola Zero, vitaminwater, Powerade, Minute Maid, Simply, Georgia and Del Valle. Globally, we are the No. 1 provider of sparkling beverages, ready-to-drink coffees, and juices and juice drinks. Through the world's largest beverage distribution system, consumers in more than 200 countries enjoy our beverages at a rate of 1.8 billion servings a day. With an enduring commitment to building sustainable communities, our Company is focused on initiatives that reduce our environmental footprint, support active, healthy living, create a safe, inclusive work environment for our associates, and enhance the economic development of the communities where we operate. Together with our bottling partners, we rank among the world's top 10 private employers with more than 700,000 system employees. For more information, please visit http://www.thecoca-colacompany.com or follow us on Twitter at twitter.com/CocaColaCo.