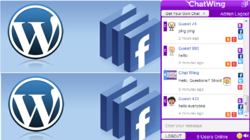 Cambridge, MA (PRWEB) June 19, 2012
The Chatwing development team is now ready to offer another stream of communication for a lot of Wordpress bloggers. This has been made possible with the release of Chatwing's latest chat box, improved with a handy Facebook integration to help bloggers expand their social networks. This chat tool can be installed to most blogs and websites to increase their online visibility. The Chatwing chat tool is also versatile enough to be used in several online communities, such as gaming, current events, micro-blogging, and entrepreneurship.
Chatwing may appear as a simple shoutbox for many users, but its simplicity has actually contributed to its good online presence. Chatwing interchanges as a widget and chatroom, or it can even function as both. By default, Chatwing uses a purple theme that is relaxing to the eyes of many bloggers and web surfers. Lately, the developers of Chatwing have included a Facebook integration feature. Through this, Chatwing's visitors can now log in with their Facebook accounts and send out invites to everyone. Twitter is also included in the social media integration feature.
Back then, the Chatwing chat widget has encountered many glitches within its platform. The development team, however, was quick enough to deal with the glitches and introduce updates. Now, the Chatwing widget is faster and can even accommodate up to 600 users in real time. The Chatwing team is planning to upgrade the user capacity to 1000, in order to deliver an enhanced communication experience.
The Chatwing team is intent on delivering optimum widget performance for Wordpress users and everyone as well. This dedication is reflects on the general speed and connection stability of the Chatwing chatbox. Compared to other chatrooms, the Chatwing widget runs efficiently and can ensure hours of entertaining chat for all of its users. Adding to that, the Chatwing team keeps its users updated through a Facebook page and general blog.
About Chatwing.com
Chatwing.com has developed live chat software for websites and blogs. It caters to different online communities due to its high rate of connectivity. Everyone can create a customizable live chatbox feature in 1 minute or less. Users have the ability to customize the size, color, and fonts of the chat product. The ability to chat via social media accounts such as Facebook and Twitter enable Chatwing to offer a personal and unique real-time experience to all sites. Chatwing is 100% free and very easy to use.