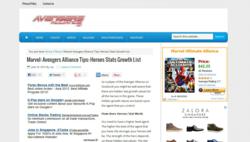 Marvel: Avengers Alliance has shown an incredible surge in its popularity. Few games have picked up so many users in such a short space of time as this one, which leads us to believe that it is more than just a five minute fad
Phoenix, AZ (PRWEB) June 20, 2012
In just three months since its launch, Marvel: Avengers Alliance has raced up the social network gaming popularity charts to become the 18th most played game on Facebook.
Avengersalliance.net, the leading online hints, tips and cheats website devoted to the Marvel: Avengers Alliance game, can reveal that the game gained an astonishing 3.5 million extra monthly active users during May, representing the second biggest increase in user numbers of all Facebook games.
The number of Monthly Active Users, or MAU, is the best way to measure a game's overall reach on Facebook, explained Avengersalliance.net editor Dan Lim.
According to the latest stats from AppData, a traffic tracking service that measures the total number of users for all games in the Facebook network, Marvel: Avengers Alliance accrued an extra 3.5 million users last month, bringing its total MAU to over 9.4 million, making it the 18th most popular game on Facebook at the end of May 2012.
Marvel: Avengers Alliance also put in a good showing when it comes to Daily Active Users, or DAU, which is a measure of a game's core audience. Avengersalliance.net revealed that the game saw a rise of 900,000 DAU, taking the total number of gamers who login to play every single day to just over 1.5 million.
This makes Marvel: Avengers Alliance the 21st most popular Facebook game in regard to its hardcore audience.
Dan Lim stated that the latest figures prove that Marvel: Avengers Alliance is no flash in the pan, and is set to become a permanent fixture in the social gaming world:
"Marvel: Avengers Alliance has shown an incredible surge in its popularity. Few games have picked up so many users in such a short space of time as this one, which leads us to believe that it is more than just a five minute fad.
"Marvel: Avengers Alliance is a quality game that provides unique challenges to gamers and a high level of interactivity with other players. We have also been assured there are many new updates in the pipeline, which will only increase interest in the game. As such, we can expect Marvel: Avengers Alliance to continue growing in popularity, and perhaps even overtake more established games such as Empire & Allies and Bejeweled 3 in the next couple of months."
"Of course, Avengersalliance.net is determined to keep up to date with all the latest new updates and news surrounding the game, and will always be the number one resource for gamers looking to enhance their playing experience with the latest tips and cheats."
About Avengersalliance.net
Avengersalliance.net is the leading online magazine devoted to keeping gamers informed of all the latest news, updates, cheats, hints and tips concerning Marvel: Avengers Alliance. The website contains a treasure trove of articles, level guides, character guides and more, and is constantly updated as soon as any new news comes out.