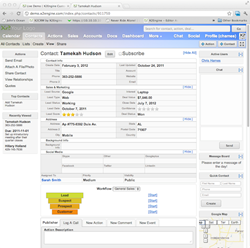 X2CRM provides organizations with the ability to rapidly create, launch and manage targeted marketing campaigns in three simple steps.
(PRWEB) June 21, 2012
Today X2CRM releases the latest version of X2CRM which includes intuitive yet powerful marketing capabilities as well as a variety of other key enhancements. X2CRM 1.5 enables users to quickly and easily create, manage and analyze highly targeted marketing campaigns.
The integrated marketing capabilities in X2CRM provide users with an intuitive, flexible platform from which they can direct targeted marketing emails and other communications to prospects and customers. Users start by creating dynamic, targeted lists by simply filtering X2Engine contacts based on any field or combination or fields. With flexible WYSISYG and HTML editors users develop and preview campaign content. After launching the campaign, metrics such as number opened, viewed and clicked enable users to measure campaign success and further target groups of prospects based on their reaction to the marketing campaign.
"It's critical that sales and marketing are closely aligned and interacting with prospects and customers in a truly consistent, unified manner," said John Roberts, X2Engine Founder and CEO. "With the latest enhancements X2CRM CRM provides organizations with the ability to rapidly develop, launch and manage targeted marketing programs, while providing a comprehensive view of the prospective customer including every interaction."
X2CRM 1.5 also has a variety of other key enhancements including Integration with Google Apps: X2Engine CRM utilizes OAuth, an open standard for authorization, enabling users to login to X2Engine CRM with their Google UserID and access their Google Apps data and functionality.
Data cleansing tools: Advanced data cleansing tools ensure data integrity including removal of duplicate records.
Live Notifications: Immediately see when new notifications have arrived, as well as how many are awaiting you.
X2CRM Core Modules
Web and Facebook Lead Capture Forms
Lead Nurturing, Scoring and Intelligent Routing
Contact Activity Management
Sales Process Work-flow Engine
Email Correspondence
Product and Sales Quotes
User Profile Pages and Activity Streams
Field Security, Roles and Sales Teams
Visual Form Editor for Admins
Reporting Dashboard
iPad and Mobile Device Apps
About X2CRM
X2CRM of Santa Cruz, California was founded in 2011 by John Roberts, a SugarCRM co-founder and Customer Relationship Management software entrepreneur. The company provides software and cloud hosting services for X2CRM, a next generation open source, sales management system. X2CRM has been installed on over 3,000 public and private cloud servers across 100 countries.
For a live demonstration, a detailed feature list and screen shot library please visit http://www.x2crm.com. X2Engine CRM takes advantage of the latest open source software including Apache, PHP, MySQL and Linux (LAMP). X2Studio, an administrative tool, allows developers to create and share new application modules without any programming knowledge. Additionally X2CRM supports HTML5, iPad, iPhone and Android mobile phones. X2CRM is fully internationalized and has been localized into six languages with more on the way.
For more information, visit http://www.x2crm.com.
# # #