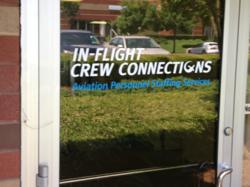 Charlotte, NC (PRWEB) June 30, 2012
In-Flight Crew Connections, a leading aviation staffing provider in Charlotte, North Carolina, recently announced the completion of its brand new facility. In an effort to boost productivity and increase client comfort, In-Flight built the new facility to increase the efficiency of the staffing and human resources operations of the aviation companies with which they partner.
The brand new facility is designed to accommodate more customer service personnel, with a 2500 square foot increase of designated space. This added size and capability is an extension of the company's stated emphasis on positive customer relations and achieving satisfaction. The building also includes additional space for the rest of In-Flight Crew Connections' operations, including crew scheduling, accounting, human resources and sales.
Another focal point of the building is the addition of a multi-purpose training room for the initial certifications and continuing education of the company's entire staff. The business is currently working to attain Certified Staffing Professionals (CSP) and Technical Service Certification (TSC) qualifications for their HR department. In-Flight Crew Connections believes such a step will increase their credibility and presence in the market. The company operates in over forty states and the primary goal of these certifications is to gain a working knowledge of each state's extensive labor and employment laws.
In-Flight Crew Connections also expects the new building to offer a more comfortable setting to visiting clients. Additionally, a larger reception area, the spacious training facility, and overall increased size of operations is intended to boost In-Flight Crew Connections' administrative capability across the board. The company's new location is located a few miles from their previous office space, and the building is already open, staffed, and ready for business.
About the company:
In-Flight Crew Connections is a global leader since 2002, providing aviation industry staffing solutions. Focused on developing customized solutions that meet the unique needs of our clients, their range of services include:

For more information visit their website at http://www.inflightcrewconnections.com.