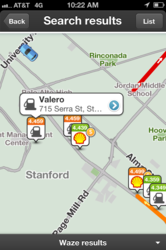 Palo Alto, CA (PRWEB) June 20, 2012
Waze, the popular social GPS and live traffic app, announced today a new tool to make driving even better: real-time gas prices updated by drivers. By working together, drivers can keep each other informed about the prices at the pumps this summer and find the cheapest gas along their route. To celebrate the new functionality, Waze now offers exclusive, Wazer-only discounts on gasoline at participating gas stations around the country to help reduce the cost of summer travel.
"Now 19 million strong, the Waze community is the largest group of drivers in the world—with that should come benefits as we harness our collective buying power," said Di-Ann Eisnor, Waze VP Platform and Partnerships.
At participating locations, Wazers will receive exclusive in- app discounts on gasoline, including partnerships with Kum & Go, Hess, Mid-Atlantic Convenience Stores (BP and Exxon stations), and Vintners Distributers (Shell).
Summer Fuel Prices Hit Americans Hard
According to reports from CNNMoney, the average family spends $368 on fuel each month. This can represent as much as 10 percent of a household's monthly income, making it the second highest expense after housing. Further, gas prices continue to soar this summer and in some areas of the nation, prices are projected to peak as high as $5 a gallon in many U.S. markets. Today, Waze proposes an easy solution to help relieve some of the financial burden, guiding drivers to the cheapest gas along their route and getting them back on track to their destination in the smartest, quickest way possible.
How it Works
Finding cheap gas has never been easier! With the Waze app open, just search for gas in the new category menu and see real-time prices nearby. What if prices look different at the pump? No problem, Wazers can update them right in the app! If drivers are near a Wazer-only fuel discount, the app will let them know by showing the station right on the map.
Other New Features Include
Waypoints: Drivers navigate the way they do in real life, with stops along the way.
Category Search: Find local gas stations, parking lots, and car repair shops along a route. Inbox: Save updates from the community.
Voice Control: Android users can now report incidents by voice without ever touching the screen.
Waze can be downloaded for free in the Apple App Store, Google:Play Market, or at http://m.waze.com.
About Waze Waze is a social traffic & navigation app based on the world's largest community of drivers sharing real time road info and contributing to the "common good" out there on the road. By simply driving around with Waze open users passively contribute traffic and other road data. Users can take a more active role by sharing road reports on accidents, police traps, or any other hazards along the way, helping to give other users in the area a 'heads-up' about what's to come– and because it's 100% user-generated, the more people who use Waze, the better (and more fun) it gets!
###