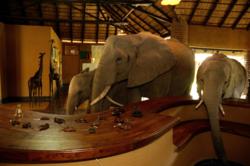 Dallas, Texas (PRWEB) June 20, 2012
Inspired by mango-loving elephants, the first interactive online wilderness community is going live today at http://www.Safarious.com.
Founders Andy Hogg, Michael Lorentz and Clay Knight have created the only free-to-subscribers community that invites both serious wildlife professionals and curious adventurers to connect around a world of experiences in the planet's wildest places.
Using inventive web-based tools, professional and amateur photographers, writers, travelers, business executives, guides, lodge operators, conservationists and more can all reach out and communicate with each other. Everyone can share information about the natural world and freely debate, educate and persuade others on passionately-held views that support wilderness habitats and communities.
Curious adventurers can get in touch with experienced safari guides, travel agents and conservationists or browse galleries of photos and videos taken by experts and amateurs. Serious wildlife professionals can promote themselves, their businesses and their skills to the curious and help them to explore the wilderness. Everyone can publish images and tales of their experiences, and make connections by integrating Safarious with Facebook, Twitter, Linkedin and other social media sites, and creating customized email groups from their personal networks.
The idea for Safarious was sparked by an elephant and her baby calf whose engaging annual hunt for mangoes captured the imagination of African safari operator and photographer Andy Hogg.
Every October, these elephants meander through Zambia's Mfuwe Lodge to their favorite mango tree. A video of elephants walking among furniture and lodge employees was posted online. The huge volume of responses made Hogg realize that the universe of people interested in wildlife was much broader than he had imagined.
Hogg shared the news with safari guide Michael Lorentz and tech expert Clay Knight, all wildlife protection enthusiasts. Together these three formed a group who dream that Safarious will become the community that cares, discovers, shares, and protects global wild places.
Critical to Safarious is commitment to sustainable use of the world's wild places. "Campfire" is the site's platform that encourages dialogue and debate about broad-scale habitat conservation and the pursuit of technologies and solutions for the communities who rely on them. Learn more at http://www.Safarious.com.