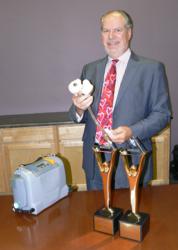 We are honored to be recognized as an industry leader by the nation's premier business awards program.
Tucson, AZ (PRWEB) June 20, 2012
On June 18, SynCardia Systems, Inc., manufacturer of the world's first and only FDA, Health Canada and CE (Europe) approved Total Artificial Heart, was honored with two Gold Stevie® Awards at the 10th Annual American Business Awards. SynCardia won "Company of the Year – Health Products and Services" and "Most Innovative Company of the Year – up to 100 Employees."
"We are honored to be recognized as an industry leader by the nation's premier business awards program," said Michael Garippa, SynCardia Chairman/CEO/President. "With donor hearts in short supply, the SynCardia temporary Total Artificial Heart powered by the Freedom® portable driver is rapidly becoming the new standard of care for end-stage biventricular (both ventricles) heart failure."
On April 24, SynCardia completed the minimum enrollment required by its FDA-approved Investigational Device Exemption (IDE) clinical study of the Freedom portable driver, the world's first wearable power supply for the Total Artificial Heart. Weighing 13.5 pounds, the Freedom portable driver is designed to allow stable Total Artificial Heart patients who meet discharge criteria to leave the hospital and resume their lives at home while they wait for a matching donor heart. The Freedom driver, which is also CE approved for use in Europe, has supported more than 85 patients worldwide, accounting for more than 30 patient years of support.
Nicknamed the Stevies for the Greek word for "crowned," the trophies were presented to honorees during a gala banquet on Monday, June 18 at the Marriott Marquis Hotel in New York. More than 500 nominees and their guests attended. The presentations were broadcast live by the Business TalkRadio Network. More than 3,000 nominations from organizations of all sizes and in virtually every industry were submitted this year for consideration.
CAUTION – The Freedom® portable driver is an investigational device, limited by United States law to investigational use.
###
About the SynCardia temporary Total Artificial Heart
SynCardia Systems, Inc. (Tucson, AZ) is the privately-held manufacturer of the world's first and only FDA, Health Canada and CE approved Total Artificial Heart. Originally used as a permanent replacement heart… read more