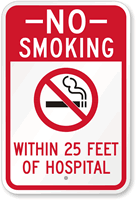 "Smoking Signs are more than just industrial products-they are public service items," said Blair Brewster, CEO of SmokingSigns.com.
Brooklyn, New York (PRWEB) June 20, 2012
SmokingSigns.com, the web's premier retailer for no smoking signs and smoking allowed signs, has released No Smoking Within 25 Feet Signs. These signs encourage others to respect boundaries for smoking.
Smoking legislation is constantly being reinvented across the country. According to Boston.com, in an area like Boston rich with colleges, many colleges such as Berklee College of Music prohibit smoking within 25 feet of an exit, entrance, or open window of any campus building. Harvard College groups have been debating whether to make Harvard Yard smoke free like many of the other areas of the campus. Discouraging smoking from less than 25 feet away prevents fires, air pollution, and stops inconvenience.
No Smoking Within 25 Feet Signs enforce rules and grab attention. SmokingSigns provides specialized signs for doorways, child care, libraries, and clinics. The signs command, "No Smoking: Within 25 Feet of The Playground." The signs feature the prohibition no smoking symbol and then pre-drilled holes on the sign making installation quick and hassle-free. The selection also includes No Smoking Within 25 Feet LawnBoss Signs.
State-specific signs reflect No Smoking laws for particular states. Depending on the state, signs make it clear that smoking is not permitted within 20 feet or 25 feet of any building. The signs are made with durable aluminum that lasts over a decade and printed with ink by 3M. "Smoking Signs are more than just industrial products-they are public service items," said Blair Brewster, CEO of SmokingSigns.com. "With over 2,000 different designs, customers have no shortage of options to demarcate smoking areas."
For more information, visit http://www.smokingsigns.com/
About SmokingSigns.com
SmokingSigns is the leading source for smoking signs and labels. Over 2,000 different sign design options are provided. Custom templates leave room for personalization.
About SmartSign
SmartSign is one of America's fastest growing e-commerce companies and parent of RoadTrafficSigns.com, SmokingSigns.com, as well as more than 50 other sites. The company manufactures and distributes a wide range of signs, tags, mats, and labels. In the past, many consumers have found it hard to find, hard to design and hard to order signs with the right message. By positioning "signs as solutions," SmartSign has taken an entirely different approach. Through highly targeted, content-rich, and authoritative retail sites, the company provides specific solutions to specific problems, such as customizing an asset tag. SmartSign is widely recognized for its quality construction; its signs come with a 3M® warranty and outlast fast-fading, ink-jet signs. Other SmartSign advantages include fast and free shipping, the Web's largest range of designs, and a best-price guarantee.