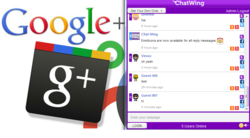 Houston, TX (PRWEB) June 20, 2012
The Chatwing development team has recently branched out to the Google+ community by releasing a chat box that has strong global connection and easy installation mechanism. This chat tool has undergone several upgrades and developments in order to provide efficient chat experience for everyone. Adding to that, the Chatwing chat tool can be installed to most blogs and websites that allow custom design function.
Google+ users can take advantage of Chatwing's communication potential, especially those who are maintaining blogs and personal websites. One of Chatwing's strongest features is social media integration. Through this feature, users will now have the opportunity to log in with their Facebook or Twitter accounts, instead as guests. The Chatwing shoutbox is also versatile enough to accommodate up to 600 people in real time. This simply means that a single user can connect to a lot of people, especially if the chatroom is full of interesting topics.
During the release of Chatwing's early versions, the chat tool has generated less than hundreds of users per day. To find more people, the Chatwing development team has introduced more updates and backend developments. It was a success—the upgrades made the Chatwing platform run smoother than ever, leading to many signups daily. After pushing for more upgrades, the Chatwing shout box has managed to generate a stable user threshold.
The Chatwing development team will always be keen on software developments. This is to ensure that all Chatwing users will have a renewed chatting experience. Apart from that, Chatwing will continue to empower the premise of website chat. This makes Chatwing a reliable tool of communication, adaptable in various online communities. The Chatwing chatrooms team also maintains a blog and Facebook page that can be visited by new users to expand their knowledge about the benefits of the chat tool.
About Chatwing.com
Chatwing.com has developed live chat software for websites and blogs. It caters to different online communities due to its high rate of connectivity. Everyone can create a customizable live chat box feature in 1 minute or less. Users have the ability to customize the size, color, and fonts of the chat product. The ability to chat via social media accounts such as Facebook and Twitter enable Chatwing to offer a personal and unique real-time experience to all sites. Chatwing is 100% free and very easy to use.