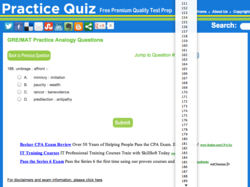 "In both [the GRE and MAT], rigorous vocabulary practice and recitation is essential to achieving a high score."
Boston, MA (PRWEB) June 21, 2012
Earlier today, PracticeQuiz.com released a new question bank containing 200 analogy practice questions, each featuring detailed explanations including definitions and rationale.
"We are extremely delighted to announce this particular practice quiz. For the past months, we've received a slew of emails suggesting we add exams X, Y, Z," notes Ted Chan, PracticeQuiz.com founder. "We've noticed that analogy practice questions were among the most desired content."
PracticeQuiz.com's free analogy practice questions primarily cater to students preparing for graduate school standardized exams, including the GRE and MAT.
"In the GRE, analogies continue to comprise a weighty portion of the verbal section," says Samantha Tanzer, PracticeQuiz.com product development associate. "In terms of MAT, your score is entirely based on 120 analogy questions. In both exams, rigorous vocabulary practice and recitation is essential to achieving a high score."
Each question in the PracticeQuiz.com analogy question bank was written to feature high-frequency vocabulary words that all test-takers should recognize before going into the exam. Just like the GRE and MAT exams, question difficulty for the 200 practice questions ranges from easy to difficult. "Before the actual exam, we recommend that test-takers go through each question in the 'true test mode' for the most realistic test day experience," adds Tanzer.
Like the other 40+ free practice quizzes available on PracticeQuiz.com, the analogy question bank incorporates 4 study modes for maximally effective study: study mode, question list mode (with answers), question list mode (without answers), and true test mode. Each answer consists of definitions (including synonyms and antonyms), strategy, and term relationships.
"As someone who is preparing to take the GRE within the next year, I'm convinced that this free resource will be a hit among test-takers," says Paul Chung, PracticeQuiz.com product development assistant. "No other website I know of offers 200 practice analogy questions for free."
PracticeQuiz.com is an online test preparation enterprise based in Boston. The website's social mission is to increase access to education by providing high-quality test preparation content for free. Follow PracticeQuiz.com on Twitter (@PracticeQuiz) for the latest news on exam updates and upcoming releases!