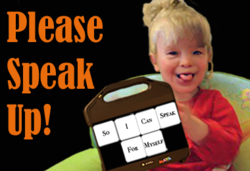 Business is about more than making money, it's about improving lives.
Maharashtra, India (PRWEB) June 22, 2012
Web development company Idyllic Software has redirected business as usual on the home page of their website in support of "The Silencing of Maya". Idyllic is using their position on the Internet to appeal to this humanitarian cause, and have changed the design of their web page to show support and relay important information regarding the movement.
"The Silencing of Maya" is an Internet movement sparked by Apple's removal of the Speak for Yourself app from their iTunes store due to patent disputes over the technology. This app helps speech-deprived adults and children to communicate, and is used by 4-year-old Maya to speak. Maya's parents and supporters are making an appeal to Apple and the companies involved to return Speak for Yourself to the iTunes store, and protect the future of the product for use by people with disabilities in the future.
Idyllic has built their company using open source software and strives to create a "conscious business culture". Jinesh Parekh of Idyllic explains what led to the changes on their home page, "Business is about more than making money, it's about improving lives." When he read about Maya, and how the technology that was able to help her speak was being taken away, he was "struck really hard" at her plight.
The changes on Idyllic-Software.com will stay up for a full week in an attempt to drive traffic and attention to help Maya and others who are affected by the removal of the Speak for Yourself app. Idyllic Software hopes that this decision to lend their voice to this cause will encourage support for Maya and the idea that technology is meant for the bettering of human lives.
--
About Idyllic Software
Based in Maharashtra, India, Idyllic Software provides agile web and mobile software development services. Specializing in Ruby on Rails Consulting and Development, Idyllic works with U.S. and U.K. based companies who are in need of additional support for their software development efforts.