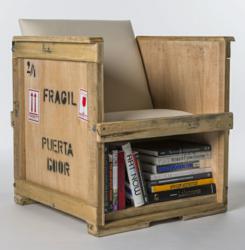 When we noticed a glut of used crates being thrown away and clients with used crates cluttering their homes, we thought used crates were the perfect resource to innovate, says owner, Scott Peveto
Houston, TX (PRWEB) June 27, 2012
PEVETO's FURM Furniture project began much like the inception of the company, as a shared vision to innovate ways in which the fine art business is conducted. "When we noticed a glut of used crates being thrown away and clients with used crates cluttering their homes, we thought that was the perfect resource to innovate, and we ended up with hip recycled furniture," says owner, Scott Peveto. The project's designers, Felipe Contreras and Scott Peveto, Houston art world insiders, began with bookshelves and filing cabinets, which gave way to an entire suite of furniture – coffee table, side table, club chair and bar cart. The design objective was to add as little in the way of material as possible to achieve a functional and elegant product. The most commonly added materials – a couple of feet of pine 2x2 or 2x4 to elevate the undersides and table tops to desirable heights. Otherwise, the materials are reused from the original crate itself.
Those interested in learning more about FURM Furniture can visit our Facebook page or website. Furniture dealer inquiries welcome.
PEVETO, A Fine Art Resource Management Company, is a multi-disciplined organization offering assistance in art acquisition, art advisory services, art collection management to individuals and corporations as well as representing a select group of national and international artists.
PEVETO
2627 Colquitt Street
Houston, Tx 77098
713.360.7098
http://www.peveto.org
http://www.facebook.com/peveto.org