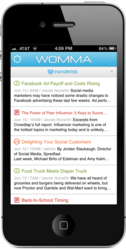 Chicago, IL (PRWEB) June 20, 2012
The Word of Mouth Marketing Association (WOMMA), the official non-profit trade association dedicated to advancing and advocating the discipline of credible word of mouth and social media marketing, today announced it is giving marketers a new way to get all the latest word of mouth and social marketing news via mobile with the WOMMA mobile app. Developed in partnership with full-service social media agency Banyan Branch, the free app will provide marketers with a singular source for comprehensive social marketing news and is now available for download on iPhone and Android mobile devices.
WOMMA, whose mission is to advance the discipline of credible word of mouth marketing, has more than 15,000 avid readers and followers of WOMMA content. WOMMA's membership is comprised of over 360 companies including brands, agencies, service providers, non-profits and academic institutions. Its members include major global corporations, such as Unilever, McDonald's, Hilton Hotels, Kraft Foods, Dupont, Facebook, AT&T and Google, amongst many others.
Through its new mobile app, WOMMA is providing marketers with easy access to all word of mouth and social media industry news, as well as aggregating the organization's editorial content in one mobile-friendly location. The app will feature the most recent content from all WOMMA publications including:
•WOMMA Word: a weekly newsletter with the latest social media news from publications such as Mashable, The New York Times, MediaPost and respected industry blogs
•WOMMA Research Digest: a monthly guide to brand education and content
•All Things WOM: the hub for marketing practitioners from brands, agencies, nonprofits and academia, the All Things WOM blog is where word of mouth industry thought leaders come together to exchange ideas
"Marketers look to WOMMA for the latest word of mouth and social marketing industry developments," said Suzanne Fanning, President of WOMMA. "Our free mobile app is making the rich content that our organization develops and the unique insights that our members share on our blogs easily accessible in a mobile-friendly, digestible format."
To develop the mobile app, WOMMA tapped leading social media agency Banyan Branch. In addition to interactive app development, Banyan Branch provides end-to-end social marketing services for brands such as Amazon, Disney, FOX, Porsche, Parallels and T-Mobile.
"With about 50% of all Facebook check-ins happening via mobile, it's never been more clear that social and mobile go hand in hand," said Fanning. "Given Banyan Branch's track record of successful social campaigns on Facebook, Twitter and Pinterest for big name brands, the agency was a natural selection as our partner to develop the app."
"As a WOMMA board member for the past two and half years, I've witnessed the growth of the organization's digital footprint and the increasing engagement of its members," said Blake Cahill, President at Banyan Branch. "Expanding WOMMA's reach into mobile allows marketers to stay tapped in to the buzz while they're on the go. We were delighted to lend our social pedigree to the organization and take the lead in developing the app."
To stay at the cutting edge of the latest word of mouth and social marketing news and developments, you can download the WOMMA mobile app now.
For Apple iPhone: http://itunes.apple.com/us/app/womma/id522255779?mt=8
For Android mobile devices: https://play.google.com/store/apps/details?id=com.banyanbranch.wommaappandroid
Additional features and options will be added in the second version of the app, scheduled to be released in the next several months.
About WOMMA
WOMMA is the leading trade association in the marketing and advertising industries that focuses on word of mouth, consumer-generated and social media platforms – or marketing techniques that include buzz, viral, community, and influencer marketing, as well as brand blogging. The organization is committed to developing and maintaining appropriate ethical standards for marketers and advertisers engaging in such marketing practices, identifying meaningful measurement standards for such marketing practices, and defining "best practices" for the industry. Founded in 2004, WOMMA members include marketers and brands that use word-of-mouth marketing to reinforce their core customers and to reach out to new consumers, agencies that deliver word-of-mouth services and technologies, researchers that track the word-of-mouth experience and offline and online practitioners.
About Banyan Branch
Banyan Branch, based in Seattle, WA, is a full-service social media agency that provides end-to-end marketing services including strategy, creative, execution and analytics. With a holistic approach that integrates Strategy, Social Media Creative, Engagement and Research & Analytics, Banyan Branch delivers social media programs unmatched by smaller agencies, while providing more personalized service and quicker response than large-scale digital firms. Dozens of the world's leading brands, including Amazon, Clarisonic, FOX, Gilt Groupe, Microsoft, Porsche, Parallels and T-Mobile have partnered with Banyan Branch to implement a wide variety of social media campaigns. Any company ready to connect with its customers where they live and breathe, can contact Banyan Branch via http://www.BanyanBranch.com