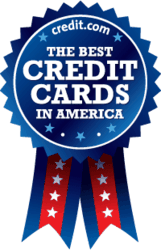 San Francisco, CA (PRWEB) June 21, 2012
Credit.com announces the winners of the latest installment of its best-in-class series, "The Best Credit Cards in America." This edition features the pick for the Best Travel Rewards Credit Card."
"The Best Credit Cards in America" series gives users a peek at the most consumer friendly cards in the marketplace, examines a variety of credit card categories and designates the best cards within that group. The cards are rated and the winners are picked based on a unique formula of 41 separate metrics that compare costs and benefits. The formula is especially helpful when it comes to looking at travel rewards cards, since travelers want products that earn points that can be put toward future trips, but will also save time and money while they're away on one.
The winner of the Best Travel Rewards Card in America is the PenFed Premium Travel Rewards from American Express.
This travel rewards card pulled away from the pack by pairing a particularly generous rewards program with an equally generous APR scale. In fact, the card's only drawback is that it's only available to PenFed credit union members. But this barrier is easily surmounted since everyone is eligible to join if they make a one-time donation to one of the nonprofit organizations associated with the credit union.
The first and second runners up, respectively, are the Capital One VentureOne Rewards card and the Capital One Venture Rewards card.
Read a full synopsis of the winner, runners up and methodology here.
And read about previous winners in the series:
The Best Credit Cards in America: Cash Rewards,The Best Credit Cards in America: Airline Miles and Low Interest, The Best Credit Cards in America: Balance Transfer Cards, The Best Credit Cards in America: Student and Secured
Media Inquiries:
Michael Schreiber
Editor-in-Chief & Director of Communications, Credit.com
212.317.9179 x222 o (NY)
michael(at)credit(dot)com
@creditexperts
@schreibot
About Credit.com
Credit.com provides straightforward tools, news, products and educational resources to help consumers make smarter financial decisions. Credit.com was established in 1995 with the goal of helping consumers with any credit standing to establish, build, enhance and effectively use credit. Our industry experts create clear paths for consumers looking to improve their finances.