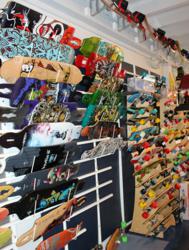 Being able to just get on a board and go is what longboarding is about, and these boards do that really well. Nobody will have trouble cruising on one of these.
Annapolis, MD (PRWEB) June 21, 2012
The newest shipment in at Pure Board Shop features entry level cruisers and longboards as well as price point free ride boards that every rider is sure to be stoked on. These boards are great for anybody looking to get into longboarding. The majority of these boards have a great flex to them. This absorbs bumps in the road giving you the smoothest ride possible. Many of these board also feature kicks on the tail, and many even have a kick on the nose. This will be a huge factor for riders making the switch from street skating to longboarding. A great feature on all of these boards is that they are all completes. Trucks, wheels, bearings and all the stuff holding it together come with the deck pre-assembled so you'll be ready to ride the moment you walk out the door.
More expierenced riders looking to up there level of riding and new riders looking for a lower ride will find the San Clemente completes an excellent choice based on price, features and overall quality. These boards feature a drop through mounting option which lowers the board making it super stable at higher speeds and easier to slide out and push. They also have huge cutouts making room for larger wheels.
When it comes to cruisers, Penny Boards are a great choice. The smaller model is small enough to fit in a locker or backpack while still having a foot platform large enough to get around town. Its larger brother the Nickel, is great for bigger riders, or riders looking for a bit more room when carving or pushing. Both of these boards are made out of an ultra durable plastic which absorbs vibrations, is water proof, and has a snappy flex.
Other new longboards in the shop are Sector9 s and Stereo boards. Riders will love the Stereo boards because they are a cheaper alternative to some of the other cruisers and also come with a fresh set of sunglasses. Sector9 has always been a company about cruising and are huge among new riders. They are known to be durable with a good shape and flex which make cruising an absolute joy.
Pure Boardshop is known for having the highest variety and selection of longboard's in its area. They carry everything from price point wheels, decks, and completes to the highest end product in the industry.
Pure Board Shop opened its doors on May of 2005. Its ease of access and parking makes it a destination shop for riders and urban street ware fans alike. With their mix of products and variety in skate, snow, surf and exclusive streetwear and shoe brands Pure's customers extend far beyond their Annapolis location. Pure prides itself on making customer service its number one priority, with product knowledge and having the right product mix a close second. The store and the website feature an ever growing brand inventory such as Nike SB, Nike Snowboarding, Adidas Skateboarding, Vans, Diamond, HUF, LRG, RVCA and The Hundreds. The shop also prides itself on having the largest variety of longboard equipment in the area; with brands like LandYachtz, Rayne, Caliber, Cult Wheels, Abec11 and many more. Pure puts on monthly skateboard jams/events in their local skateboard park as well as sponsors many longboard slide jams in the DC Metro Area.
Contact Pure at 410-267-7669 or visit them on the web at pureboardshop.com
http://ymlp.com/z2dkm3 Pure's Weekly Newsletter