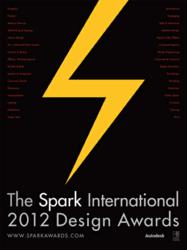 New York, NY (PRWEB) June 26, 2012
"With the Call For Entry for Spark:Spaces, we've begun a quest to find the most innovative developments in the built environment," said Spark President, Peter Kuchnicki. "This is our first competition to be tightly focused on the spaces and structures around us."
The competition is open to entries from around the world. It will be judged in San Francisco at the Autodesk Design Gallery in October. The entry deadline is September 17. Interested architects and designers may register at the Spark website.
"Why create this competition?" Kuchnicki was asked. "Because we want to focus attention on efficient, innovative and sustainable designs and their designers. Entrants and winners will be widely seen because of Spark's promotional activity. In this way, designers and architects gain valuable marketing exposure."
All of the Spark Awards have two simple, yet modern criteria:
1. Does the design Spark? Innovate? Is it a new idea? Creation or refinement?
2. Does it improve the quality of life? Contribute to understanding, efficiency, progress? Does it sustain or conserve our Earth's limited resources?
David Meckel, California College of the Arts Director of Campus Planning (and Spark:Spaces Jury Chair), said "The science, art and technology of building is vastly more complicated in this era of limited resources. It's important to get things right, and Spark is looking for 'right' things."
Spark:Spaces accepts design entries in a large number of categories, including:
Architecture for working and living spaces, large public structures and arenas, building technology, security, interiors, universal access, temporary structures, exhibits, pavilions and exhibitions, urban planning, lighting, arches, bridges, viaducts and gateways, public spaces, parks, fountains and plazas, landscape and community planning.
SPARK:SPACES JURY
The jury that will select the winners is being formed, and includes:
Jury Chair, David Meckel FAIA, Director of Campus Planning, California College of the Arts
John Peterson, Founder & President, Public Architecture
Anne Fougeron, Principal, Fougeron Architecture
Liz Ogbu, Resident Fellow, IDEO.org
Linda Pollari, Chair, Architecture/Landscape/Interiors, OTIS College of Art and Design
Nik Hafermaas, Chair, Graphic Design Department, Art Center College
Spark:Spaces is one of five Spark Design Awards. More information about this organization and these competitions can be found at http://www.sparkawards.com
-----------------------------------------------------------------------------------------------------------------------------
Bonus Background Info:
Why companies join SPARK
To explore what "Design that Makes a Difference" can offer their marketing efforts. This can help their in-house designers keep in touch with the latest trends in design theory and application. Spark also helps companies that are making an effort in eco-conscious design to communicate that to the world. The Spark Judging Criteria are the first serious attempt to outline and measure the important considerations that designers must include to be relevant in this new era.
Why professionals join Spark
In similar fashion, professionals gain greater understanding of the progress being achieved in the world of Better Design. They can see the most modern work, and have their own work judged in context to it. Only a very few entrants will win a top Spark! Award, but all who take part gain a deeper understanding of inter-connected world. The key thing most designers agree on—that it's very important to "get the work out there." Spark provides the most modern context for that work.
Why students should join SPARK
Exposure to the Spark competitions and community offers a valuable modern context for young designers, and helps them gain recognition for their efforts. Over time, young designers closely observe a steady river of the finest contemporary design, helping them understand—and ultimately take part in the international community of design, brand and innovation. Already, student entries make up a significant portion of Spark winners—and some of its best work.
What designers gain from SPARK
An opportunity to take part in a great new wave of design, and to help form a community that supports and promotes a strong and modern design consciousness. Not American, not European, not Asian—but worldwide.