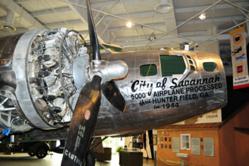 its mission to preserve the legacy of the courageous men and women who served in World War II
Lake Forest, CA (PRWEB) June 25, 2012
On Tuesday, June 26, 2012 at 10 am, California based Chroma Systems Solutions will contribute Modular DC Power Supplies to the Mighty Eighth Air Force Museum's B-17, City of Savannah Restoration Project. This equipment will provide DC power to the aircrafts radio room, turrets, flaps on the wings along with its landing lights and interior lighting. The Museum will demonstrate the use of this power supply by operating the B-17's chin turret on Tuesday morning.
"The B-17 Flying Fortress 'City of Savannah' will be restored to its full combat configuration, including operational systems and components, with the goal of making it the finest static display B-17 in the world." said Henry Skipper, Museum President and CEO. Upon completion the Mighty Eighth Air Force Museum's B-17 will be the only static display to include three movable turrets. "In addition to being an important part of American history, the 'City of Savannah' will be utilized in the Museum's educational programs and in its mission to preserve the legacy of the courageous men and women who served in World War II."
"We are excited at this opportunity to power the 'City of Savannah' B-17 aircraft and contribute to its historical preservation." said Steve Grodt, Marketing Manager at Chroma Systems Solutions. "It's an impressive project that had some special power requirements. Our 62000B DC Power Supplies were the perfect power source for a continuous power application like this."
Equipped with the functionality of N+1 redundancy and hot-swap, the 62000B Series of modular DC Power Supplies are most applicable for 24 hours non-stop applications such as the SMD plating production lines, as well as product life burn-in test for IT products like DC converters, LCD backlight inverters and routers.
The 62000B modular power supplies are capable of providing high power output up to 120KW/2000A with minimal specification degradation. Each chassis is designed to accommodate a maximum of 9KW and include current sharing capability to ensure system stability. In addition, for control of even larger power systems, a CSU is provided to set and display output and protection circuits via a standard CAN bus communication protocol.
About the Mighty Eighth Air Force Museum
Activated in 1942 in Savannah, GA the Eighth Air Force was a critical strike element in World War II and remains an active force today. The Mighty Eighth Air Force Museum is one of the world's most powerful Museum experiences as it honors the Mighty Eighth's proud legacy by preserving the stories of courage, character and patriotism displayed by the men and women of the Eighth Air Force from World War II to present. Just minutes from Historic Savannah the Museum is located at 175 Bourne Avenue in Pooler, right off of I-95 at Exit 102. The Mighty Eighth Air Force Museum is open daily from 9 AM until 5 PM except on New Year's Day, Easter, Thanksgiving and Christmas. For more information, please visit http://www.mightyeighth.org or call 912-748-8888.
About Chroma Systems Solutions
Chroma Systems Solutions, Inc. is a leader in providing power electronics and electrical safety testing instrumentation and systems. Chroma's programmable power supplies, electronic loads, meters, hipot testers and automated testing systems provide solutions for applications in Aerospace, Military, Commercial, Medical, Battery, Marine, and Regulatory Testing as well as green energy markets including Solar, Electric Vehicle and LED. With offices and manufacturing facilities located around the globe, Chroma is dedicated to providing the highest quality equipment for compliance and R&D test engineers as well as unparalleled service and support. Chroma Systems Solutions corporate office is located in Lake Forest, CA. For more information please visit http://www.chromausa.com or call us at (949) 600-6400.