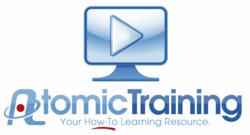 Today's job market demands an employee who is proficient on technology tools. Atomic Training helps people seeking workforce center resources gain the skills necessary to meet their employer's expectations
Little Falls, MN (PRWEB) June 21, 2012
With Atomic Training, Workforce Centers nationwide can now provide online software training to their users on over 150 common software applications, including training on iPads. This set of online tools can give workforce center patrons the resources they need to prepare themselves for employment. Through this tool users have the ability to improve general job skills, build resumes, and develop proficiencies in specific skill sets.
Atomic Training's solution is completely web-based and can be available to users on-site at workforce centers, and is also available remotely where internet access is available. "Today's job market demands an employee who is proficient on technology tools. Atomic Training helps people seeking workforce center resources gain the skills necessary to meet their employer's expectations," says Clay Moore, National Sales Manager.
To add to Atomic Training's growing library of resources, Practice & Quiz Sets are soon to be available on their most popular software applications. These Practice & Quiz Sets can help insure learned skills are retained by users. This is a growing importance amongst today's job seekers, as a diverse and substantial set of skills are in demand now more than ever.
Workforce centers are invited to sign up to be part of an initial group to see how this solution can be effective in today's workforce center. Receive one month free training for 50 of your patrons and/or staff members. http://unbouncepages.com/atomictraining-workforce/
For further information contact:
Clay Moore
866-259-6890, ext. 221
cmoore (at) atomictraining (dot) com