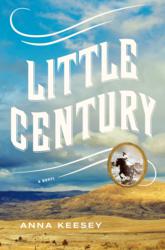 "It's Willa Cather with a sense of humor."
McMINNVILLE, Ore. (PRWEB) June 21, 2012
The debut novel from Linfield College professor Anna Keesey came out this month and has already landed on Oprah's Top 16 Best Books for June. Little Century was also selected for The Christian Science Monitor and Vogue Magazine summer reading lists. Although the story is set in the early 1900s, its land and water conflicts still resonate.
The coming-of-age story by the Linfield College writing professor follows a young orphan from Chicago who rides the rails west in search of her last living relative. Esther, the heroine, lays claim to land outside the lawless frontier town of Century, Ore., where a bitter range war between cattle ranchers and sheepherders explodes in violence. Esther finds her sympathies divided between a terse cattle rancher and a tender-hearted sheepherder who is a sworn enemy of local cattlemen. As her romantic feelings deepen and violence between the two groups escalates, she realizes she has to make a difficult decision, one that encompasses far more than personal passions. In this morality tale, where settlers are duped, politics are corrupted and land is stolen, the heroine develops a moral clarity that far outstrips her age.
"Dwindling resources, bribery and corruption—issues as current as this morning's newspaper—mix with optimism in Little Century, Anna Keesey's briskly romantic, nontraditional Western," said Liza Nelson, from O, The Oprah Magazine. "It's Willa Cather with a sense of humor."
"It's happening again," wrote Cathy Langer, lead buyer at the Tattered Cover Book Store in Denver, Col. "I reread the last few pages of Anna Keesey's luminous novel Little Century and I'm weeping at the beauty of the language and the sweet sad happy heart wrenching end. This happens to me rarely, almost never, but it occurs when characters are so vivid that I despair at saying goodbye … Settling the West was hard, often ugly work. Little Century honors that in a very beautiful way."
"In the contemporary world all kinds of resources are becoming scarce and multiple parties have legitimate claims to the same space," Keesey said. "Water politics and heated fights over control of land characterize the West." Her novel, part feminist Western, part love story and part coming-of-age tale, also illuminates the conflicts that have shaped and continue to shape the American West.
Keesey is a professor of writing at Linfield College in McMinnville, Ore., and a recipient of a National Endowment for the Arts Creative Writing Fellowship. She is a graduate of the Iowa Writer's Workshop, and her work has appeared in a number of journals and anthologies, including Best American Short Stories. Little Century has been published by Farrar, Straus & Giroux in New York City.
Linfield College is one of the few schools in the Pacific Northwest dedicated exclusively to undergraduate education, and has been praised for combining affordability and excellence. The small college in Oregon offers a liberal arts and sciences program as well as professional programs, and was named one of the nation's top picks for high school counselors across the nation.