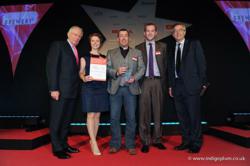 Emily Brouder, BIG's Marketing Manager said, "When we launched Selfit, we were first in the market with a badging system that eliminated last minute stress and hassle for organisers. Now with Selfit Global we raised the bar even higher."
(PRWEB UK) 21 June 2012
BIG, the leading UK and European specialist for staff name badges and event badges for conferences and hospitality has just been recognised with the Best Technology for Conferences Award 2012 for the new BIG Selfit Global badging system.
The BIG team received their award from Nick Hewer from the Apprentice and Countdown during the Conference Awards ceremony in front of an audience of 550 colleagues, clients and peers from within the UK Conferences and Hospitality industry. The ceremony took place on Friday 15th June, 2012 at The Brewery in London.
Competing for the same award in The Technology for Conferences Category were Concise Media Design with their Dynamic iPads For Events, Eventsforce who competed with the Event Management Software Platform and IML who entered with the IML Connector. The category was sponsored by etc.venues (http://www.etcvenues.co.uk).
BIG's Selfit Global was considered the winning entry by the judges, who stated that, "it was a forward thinking application that looked after the little things, allowing organisers to concentrate on the event itself". The judging panel consisted of market experts and practitioners who have genuine expertise in the conference and events industry.
Upon receiving the award, Emily Brouder, BIG's Marketing Manager said, "The Selfit system was always a favourite with conference and event organisers. We were first in the market with a badging system that eliminated last minute stress and hassle for organisers. With Selfit Global, we pushed the bar even higher. Developed as a web-based system that is available on your desktop, via the web or on iPad, Selfit Global has advanced features for easy access, improved usability and a future-proofed system that utilises the latest badge trends. As a team, we knew that Selfit Global was an award winning system. So we are delighted that this has been recognised by our clients, colleagues and peers within the industry."
Selfit Global was developed in response to market demand from conference and event organisers who wanted a badging system that was flexible enough to cope with on-site last-minute changes; was able to incorporate barcodes; and that would consistently print professional-looking reusable badges. In addition, conference organisers wanted smart solutions that satisfied the exacting requirements of their clients and left a positive lasting impression on delegates. What BIG developed is a guaranteed system that is fast to use; is packed with advanced editing, barcoding and file sharing features; produces professional results; and allows them to print badges anywhere, anytime. As a system, it eases the stress and eliminates the hassle that is part of the badging process.
As Mark Alderman, BIG's Operations Manager commented, "Selfit Global is truly the total badging system for our times. Our customers were engaged throughout its development - we listened to them and followed their use of new technology. We set out to build an enhanced platform that is robust and flexible enough to handle upgrades and future technological innovation. We believe that Selfit Global has achieved precisely that. It is a feature-packed application, and we are confident that our customers will love the ease of use and new way of stress-free badging."
Emily Brouder continued, "Our work with Selfit Global is not over yet. We are already in development with Phases 2 and 3, which include even more new and useful tools and applications for the event professional." Selfit Global is the only total badging system on the market - complete with printers, badges, cards, ribbons, lanyards, fastenings, wallets and software. Badges are re-usable, eco-friendly and come in a range of sizes to accommodate personalisation and display information. Their long-lasting, scratch-resistant surface keeps badges looking like new, time-after-time, saving money and limiting environmental impact.
BIG supplies an extensive range of re-useable and permanent high quality name and ID badge solutions, all designed to raise the value, visibility and prestige of client brands whenever they are used. BIG also supplies business print solutions for events and conferences that include business cards, conference material and other print. Together with event and corporate accessories, the BIG range of products offer quality solutions catering for all budgets for conferences, events, festivals and sport activities.
BIG is part of the Brady Corporation, with operations in 22 countries, and distribution in over 100 others. BIG has worked for thousands of organisations of every size and in every sector. The print and manufacturing operation is located in Ipswich. For a list of services and products, please visit http://www.big.co.uk.
BIG
5 Hampton Hill Business Park
High Street, Hampton Hill
TW12 1NP
F: +44 (0) 208 614 8800
E: marketing (at) big.co.uk
W: http://www.big.co.uk