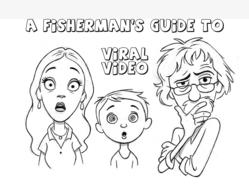 So, there are the four simple steps to a great viral video success story, the bait and hook, the reel, the catch, and the big fish story. Now it is time to tell mom about this amazing new find
Saint George, UT (PRWEB) June 21, 2012
Viral videos: A Fisherman's Guide to Viral Videos
After watching a video interviewing Thales Teixiera (an assistant professor at Harvard Business School) on his studies of the elements involved in making a video go viral, I came up with this guide helpful guide full of tips on what makes video viral called 'A Fisherman's Guide to Viral Video'.
There are 4 steps in the fish catching process: the hook, the reel, the catch, and the big fish story. Viral videos have these same four steps, each of which will be outlined below.
(1)The Bait and Hook
A viral video bait and hook has to be within the first five seconds of a video. It should be different, capturing the viewer's attention with surprise and wonder.
(2)Reeling the Fish In
According to Teixiera, the way to keep viewers viewing is a lot like reeling in a fish, alternating from yanking on the line, then letting it loose. The typical outlook people have on a viral video is that as long as the video is happy and humorous, people are more likely to watch it. This is not true. Viral videos must have some funny and happy moments, and then take them away, and alternate throughout, giving apparent highs and lows.
Ex: Bud Light's Viral video
(3)The Fish has been Caught!
Great work, now onto telling the moms how big of a fish was caught.
(4)The Big Fish Story
Now, geared with the fundamentals to have a viral video, there is one further step: it needs to be shared. Like a successful big fish story, a viral video must be delivered in the right way. This is the "viral" part of the process, where two factors come into play: content and motivation. Successful viral videos show that their video content is surprising but not shocking. Viewers are more likely to share something that is not completely shocking, but still surprising. Look at the difference between a surprising and shocking video here:
Shocking Big Fish Story: The "Bud Light Clothing Drive" Viral videos (A big no-no)
Surprising Big Fish Story: The "Evian Roller Babies" Viral videos (A big yes-yes)
The last important part of a viral video is the motivation of the viewer. People are more inclined to share a video because of self-interest, where they feel they can gain a social capital over others and seeming superior. On the other hand, people also share video because of altruistic motivations: they like a video and share it with others because they believe others will like it as well.
So, there are the four simple steps to a great viral video success story, the bait and hook, the reel, the catch, and the big fish story. Now it is time to tell mom about this amazing new find, "A Fisherman's Guide to Viral Video".
Ydraw
Jace Vernon
Alecsy Christensen