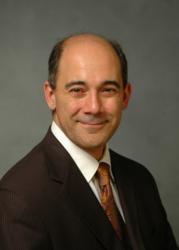 "Dr. Benza's contributions to advancing the treatment of pulmonary hypertension and heart failure have been enormous," said Dr. Srinivas Murali.
Pittsburgh, PA (PRWEB) June 22, 2012
Raymond L. Benza, MD, an internationally recognized cardiologist who serves as Medical Director of the Advanced Heart Failure, Transplantation, Mechanical Circulatory Support and Pulmonary Hypertension Program at Allegheny General Hospital (AGH) has been named Physician of the Year by the Pulmonary Hypertension Association (PHA). Dr. Benza will accept his award at the annual PHA scientific meeting in Orlando on June 24, 2012.
Considered one of the country's foremost experts on pulmonary vascular diseases and cardiac transplantation, Dr. Benza has played a major role over the past two decades in advancing the study and treatment of pulmonary hypertension, a progressive and often fatal cardiovascular disease. Affecting approximately 200,000 people annually worldwide, PH is characterized by continuous high blood pressure in the lungs, which ultimately leads to heart failure.
Though no cure exists yet for PH, the efforts of healthcare professionals like Dr. Benza and the coordination and support of those efforts by the PHA have helped expedite the development of new treatments for the disease that now offer patients hope.
The PHA Physician of the Year Award recognizes outstanding physicians who have been notable in their service to the Association and in promoting excellent clinical care, research, education and advocacy on behalf of patients. Recipients of the award are chosen by their peers.
"This prestigious honor is bestowed to our field's most accomplished physicians who exemplify the highest standards of patient care quality, innovation and advocacy. Dr. Benza's contributions to advancing the treatment of pulmonary hypertension and heart failure throughout his stellar career have been enormous and we are extremely proud to work along side him in the care of patients with these highly complex diseases," said Srinivas Murali, MD, Director of AGH's Division of Cardiovascular Medicine and Medical Director of the hospital's Gerald McGinnis Cardiovascular Institute. "No one is more deserving of the PHA's Physician of the Year award."
Through his tireless work on behalf of the PHA with the United Network for Organ Sharing (UNOS) and the International Society of Heart Lung Transplant, Dr. Benza recently helped develop a new algorithm that has modified the nation's lung allocation process to ensure a fairer distribution of donor lungs for patients with end stage pulmonary diseases like PH.
As a result of those efforts, PH patients who typically have been placed low on the waiting list now have a better chance at receiving a life-saving lung transplant.
Dr. Benza has also literally climbed mountains to raise greater public awareness about pulmonary hypertension, scaling both the Grand Teton in 2007 and Mt. Kilimanjaro in 2010. The experience, he said, brought him even closer to the patients in his care as the shortness of breath one experiences during such daunting ascents is comparable to what patients with PH experience every day.
"Dr. Ray Benza is truly an outstanding leader in treating and researching PH, in educating patients and other professionals about the illness and in advocating for the PH cause," said Rino Aldrighetti, president of PHA. "The PHA is very proud of Dr. Benza's work and deeply grateful for his many contributions to fighting this serious illness."
Recognized worldwide as a leader in the science of pharmacogenomics, exploring genetic regulation and mechanisms in cardiovascular disease, Dr. Benza is the author of more than 80 scientific papers, abstracts and book chapters in his field. He has served as the principal investigator of dozens of cardiovascular and pulmonary hypertension clinical trials and has received significant funding for his scientific work from both the National Institutes of Health and the American Heart association.
Dr. Benza's team at AGH will launch a new study this week at the PHA meeting that will investigate the role of specific proteins in pulmonary hypertension. The goal is to identify new biomarkers for the disease that will hopefully further advance the early diagnostic capabilities of physicians. Like many diseases, PH is managed most effectively when it is detected in its earliest stages.
"Dr. Benza's compassion for patients and his endless determination to help improve and extend their lives through excellent clinical care and groundbreaking research is exemplary and inspiring," said Jessica Lazar, MPA, PA-C, Director, Cardiology Quality and Education at AGH and one of two colleagues who joined Dr. Benza for his Mt. Kilimanjaro expedition.
In 2010, the Royal House of Savoy, an ancient knighthood established by the once royal family of Italy and sanctioned by the Vatican in the Middle Ages, made Dr. Benza a knight in recognition of his contributions to medicine. The honor is given to those who demonstrate eminence in public service, science, art and charitable works.
Active in many of his field's professional and scientific associations, Dr. Benza has held numerous key national leadership positions, including the Scientific Leadership Council of the PHA, Thoracic Organ Committee of United Network for Organ Sharing (UNOS), and the Board of Directors of the International Society for Heart and Lung Transplantation.
Dr. Benza also sits on President Barack Obama's Advisory Council for solid organ transplantation.
Prior to joining AGH in 2008, he served as director of the Pulmonary Vascular Disease Program at the University of Alabama.