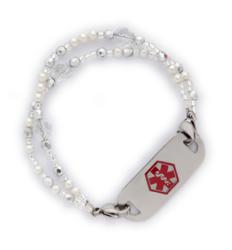 "It's extremely important for people with type 2 diabetes to be protected."
Kansas City, Missouri (PRWEB) June 28, 2012
According to the American Diabetes Association, an estimated 25.8 million children and adults in the United States have type 1 or type 2 diabetes with an additional 79 million estimated to have prediabetes. These Americans should be wearing a medical ID bracelet that could potentially safe their life in an emergency.
Fashion Alert offers stylish interchangeable bracelets and necklaces for men, women, and children that can be custom-engraved with critical medical information. Stainless steel medical ID tags come pre-engraved with type 2 diabetes and can be attached to any Fashion Alert bracelet to create different looks.
Dog tags necklaces pre-engraved with diabetes are also a great option.
"It's extremely important for people with type 2 diabetes to be protected," said Denise Gaskill, co-owner of Fashion Alert. "Wearing a medical ID bracelet will help emergency responders treat people more effectively in an emergency."
Consumers interested in purchasing Fashion Alert medical ID jewelry can find the nearest retailer location by using our store locator: http://www.fashionalert.com/gmap-locations.
About Fashion Alert
With fashionable, discreet medical ID products in high demand, Fashion Alert aims to provide stylish protection to the millions of Americans with medical conditions. Our line of medical jewelry features products for men, women and children. Many products are pre-engraved with common medical conditions. Custom engraving is available on all blank products. Retailers interested in carrying Fashion Alert products should call 816-746-0014 or visit http://www.fashionalert.com.