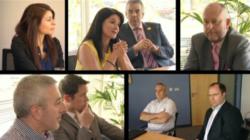 "Business uncertainty is hitting the economy and stifling jobs and growth."
(PRWEB UK) 22 June 2012
Dandy's Topsoil headed to the latest ITV Wales Business Club meeting to speak as a family run, small business based in North Wales.
Other representatives of businesses from across the whole of Wales, both small and large, met with them to discuss the plummeting confidence in UK business following the Euro crisis, how they are being forced to stifle would be investments and developments within their businesses and also the positives and negatives of taking on new employees at such a time.
They revealed that "business uncertainty is hitting the economy and stifling jobs and growth" - ITV Wales report.
The representatives of Welsh Business, including Dan Langford of Acorn Recruitment, Wales largest recruitment agency, who hosted the event, discussed how the so-called 'living wage' would ultimately have a negative impact on recruitment.
The group felt that a raise in the minimum wage would harm businesses that are not in a position to meet the increases - ultimately it could not only reduce recruitment but it could also increase unemployment.
Dandy's Topsoil have recently branched out and, using their background in transport and fleet operation, opened a truck stop with a Welsh themed diner on site in an attempt to decrease the seasonality of supplying products such as topsoil, rock salt, compost and other gardening supplies.
So far the truck stop has proven successful and two new staff were brought on board, Adam Dandy commented in the ITV Wales report that the proposed 'living wage' would halt plans to take on a further five team members this year due to the unwanted increase in overheads which cannot be passed on to the company's customers and clientele base.
With unemployment figures at an all time high, the group felt that anything that could risk increasing those figures further would be detrimental to the UK economy and would worsen the situation for those actively seeking employment as available positions dry up due to the increased cost to the business.
The group also discussed the current economic climate and Jason Carmichael, of Carmichael's Business Supplies, Swansea, revealed how the dramatic increase in business to them has come at the cost of heavily reduced margins and other members of the business club gave their thoughts on the Euro crisis and unemployment levels across Wales.
The unemployment and 'living wage' proposal debate dominated the meeting though with one member explaining how, despite high levels of unemployment in their area, the three apprenticeship opportunities they have on offer remain unfulfilled, whilst another member reported having exceedingly over-qualified employees on their books willing to fill any number of low skilled positions.
To see the full report visit ITV Wales.