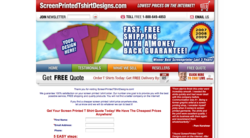 we will train you on all facets of the industry
Los Angeles, California (PRWEB) June 24, 2012
ScreenPrintedTshirtDesigns.com is calling out for more resellers looking to tap into the $500 billion a year U.S. clothing industry. The site is offering special offers for resellers.
The site enables potential resellers the chance to offers customers that same products and services offered by Screen Printed T-shirt Designs; bulk shipping, bulk ordering, mass t-shirt screen printing.
The says that signing up to be one of their resellers opens up "unlimited earning potential" when joining the screen printing operation.
For businessmen who are already running their own business, the site also offers special deals to incorporate the screen printing business into their established businesses.
"If you run a clothing store, plan events, corporates functions or websites then why not become a reseller offering your customers the chance to get our full range of clothing and accessories," says the site.
"As a ScreenPrintedTshirtDesigns.com Reseller, we will train you on all facets of the industry, including pricing, targeting the right customers and screen printing fundamentals."
The site has a special online form for interested applicants on their website. SPTD has a long history of successful relationships with its partners and customers.
Tonya Baker of Ft. Hamilton Community Spouses Foundation Inc. said, "We got our tee shirts in and we are all very happy with them. As Military wives we all travel a lot and have dealt with some companies we wish we would not have. When I gave everyone the price (no one could believe it was that low) and turn around time they were a bit concerned that they would be thin cheap tee shirts and that the quality would not be there. I am happy to report that the shirts were nice and thick. The artwork looks even better then we have could have imagined. Please tell your team that the wives at Fort Hamilton, NY greatly appreciate the hard work that went into our beautiful new shirts. As most of us know plenty of spouses on other posts we are passing the word on about how great our experience has been, so look for more orders to be heading your way. With all of our thanks!"
About Screen Printed T-shirt Designs
ScreenPrintedTShirtDesigns.com is an online t-shirt printing service that caters to bulk orders and boasts the lowest prices, free shipping, and excellent customer service. The company has 22 years of experience in custom t-shirt screen printing.