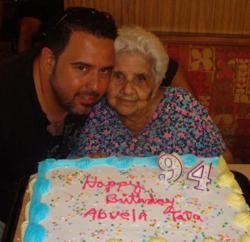 Paying it forward
Miami, Florida (PRWEB) June 24, 2012
People who have been turned down or in the process of government and charities' approval to receive assistance, have another chance to ask for help from their community by posting a help request on their profile—through this new phenomenal social platform. According to WSVN 7News aired June 7, Helpcup connects people who need help—with people willing to help. Using their model of "paying it forward", recipients that have been helped are asked to replicate the good deed by being future donors: through volunteer work, donation of goods, or financially to help another member.
38-years old Ronnie Sopena, a driver instructor in Florida, and also a full time care taker of his 94-years old grandma— needed a computer for his elderly grandma so she can stay in touch with her loved ones and pay bills online. With insufficient funds due to bills, normal household expenses on top of his hours being cut from work—he turned to Helpcup. After a few weeks of starting a profile page and asking for help, a business owner of La Playa Title, Eric Martinez from South Florida was willing to help. Ronnie and his grandma received a new computer and he is now paying it forward by giving free driving lessons to members in Naples, Florida.
From Ohio—Lisa B, a wife and mother of two young children, received a shut off notice from her gas company, they are also a month behind on rent. Not knowing what to do, she googled "help with our bills for my kids" and "God"— Helpcup showed up on her screen. She then created a profile, told her story, and prayed for a guardian angel. Successful Human, a charity, read her heart felt story and helped Lisa pay her overdue gas bill. Because of Successful Human, her two young children have warm water to bathe in and warm food on their plates. Lisa is a true believer in giving back and planning on "paying it forward" by being a future donor of Helpcup when she finish her job training as a counselor for kids.
It is amazing how one act of kindness can go so far. Stories like Lisa and Ronnie are happening every day, many people just need a helping hand. Through Helpcup, their story may also touch another angel's heart. Helpcup encourages everyone including businesses to be socially responsible. With just one click of a mouse, someone thousands of miles away or your neighbor can be helped.