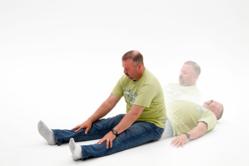 We can learn a lot by watching animals go through their stretching routines.
Woodbury, Minn. (PRWEB) June 22, 2012
People can learn a lot by watching animals go through their stretching routines. After all, it's rare to see an unhappy kitten. A little massage and stretching every day are not only good for the body, but good for the attitude. As a massage therapist with 20 years' experience, I believe animals can "teach" us much.
Sometimes, people can wake up with a sore back or headache, or just feeling cranky. As the years have passed, I can relate to these maladies. With this article I share a few simple exercises that can be done at home. The exercises are designed to get people to stretch prior to leaving the house and can lead to better attitudes and less discomfort.
Stretching participants should always consult a physician before starting any new exercise or stretching routine, especially if the person is under a doctor's supervision.
BEFORE GETTING OUT OF BED
1. Participants should sit up and put their legs straight out in front of them. They should slowly bend at the waist and reach towards their toes (see Fig. 1). The muscles should not be over-stretched; only stretch until there is slight resistance. Participants should slowly sit back up and repeat the stretch 3 – 5 times, holding the stretch a little longer each time. During each stretch, the stretching should go farther each time.
2. Participants should massage each leg starting at the upper thigh and working down to the ankle and then reverse. This is repeated for each leg three times. A hand can be put on each side of the leg and the muscle tissue is squeezed.
3. In step three, participants grab their feet and start squeezing. Feet should be squeezed between both hands. If the participants are flexible enough, their thumbs can be used to massage their feet. This will feel good and give the circulatory system a jump start.
AFTER GETTING OUT OF BED
1. Participants stand and reach their arms up over their heads and reach for the stars, then slowly bend over and hang like a rag doll (see Fig. 2). Participants should slowly stand up and repeat 3 – 5 times. This movement should go slow to avoid a "head rush." The exercise can also be accomplished by sitting in a chair (see Fig. 3).
2. Participants can also jump up and down to stimulate the energy flow in their bodies. These simple routines are easy to learn and have the potential to increase participant energy levels throughout the day.
By working these stretches into a daily routine, participants can soon enjoy better feelings and even a potential mood lift during the day.
ABOUT MARIA LEONARD, GLOBE UNIVERSITY DEAN OF MASSAGE THERAPY
Maria Leonard has been with Globe University and its affiliates since 2002, where one of the school's most popular programs is the associate degree in massage therapy. She received her massage training at California Healing Arts College in California in 1994 and has been a massage therapist since 1994. Leonard has been an instructor, spa manager and is a Reiki Master.
She is a member of the Federation of States Massage Therapy Board's Massage Licensing Exam Writing Committee and a member of the coalition working towards licensure of massage therapists and body workers in Minnesota.
Leonard also holds a Master's of Business Administration degree.
ABOUT GLOBE UNIVERSITY
Globe University is part of a premier, family-managed system of career colleges, universities and training centers based in Woodbury, Minn. These specialty skills colleges prepare work-ready professionals for successful careers in a wide range of high-demand fields. Through its mission, We Care, the organization integrates hands-on and career-focused education with service- and applied-learning experiences that expose students to their communities and real-world situations. Programs offer undergraduate, diploma and graduate degrees in a wide range of career fields, including business and accounting, health sciences, legal sciences, technology, creative media and applied arts. More than 30 programs are available online. All academic programs are accredited by the Accrediting Council for Independent Colleges and Schools (ACICS). For more information, visit http://www.globeuniversity.edu.