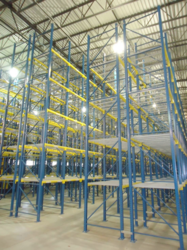 We timed up delivery so that our installation crew could receive the right balance of uprights, beams, and wire decks and be able to continuously work.
Greensboro, NC (PRWEB) June 23, 2012
Carolina Material Handling has recently completed the first phase of a three-phase project for a newly constructed facility in South Carolina that was needing heavy pallet rack storage.
Account manager Robby Reighley handles clients in the territory of Greensboro, Charlotte, and upstate South Carolina. He attributes a good pre-existing relationship with the client in their North Carolina divisions to having helped them to win the project.
The client presented Reighley with a layout of the facility and an AutoCAD rack layout with their exact specifications, including where the racks were to be located and beam level height. The highest part of the facility would have 26 ½-foot-high uprights with five beam levels. To maximize the space, due to the declining roof height, the uprights were from 26-1/2' high down to 16-1/2' high.
Reighley coordinated with the installation team, engineer, and suppliers to ensure that the first phase of the project was completed on time. "Scheduling was huge on this," he recalls, "in getting the rack and wire decks shipped out on time from the factory so we could receive them on the days when we were going to be there, and then get them unloaded for the customer."
"We worked weekends to help get the project completed in a timely fashion," Reighley says. "We set up all the flatbed shipping coming from our suppliers' factories. We timed up delivery so that our installation crew could receive the right balance of uprights, beams, and wire decks and be able to continuously work."
The Carolina Material Handling installation crew went through safety training, and then brought their own forklift and high-lift scissor lift on-site to assemble and install the high-rise pallet storage system. The customer is using a wire-guided forklift system; therefore, they completed the installation with epoxy anchors and shims to keep everything level.
Carolina Material Handling used suppliers with whom they've had a long-lasting partnership. Bulldog Rack Co. manufactured the pallet rack, and the wire decking was provided by Nashville Wire Products. All three companies worked together to make sure the rack systems were manufactured, shipped, and installed on time.
Phases 2-3 are projected to be completed by the end of 2012 and will expand upon the rack systems built during this stage.
About Carolina Material Handling
Carolina Material Handling, Inc. has evolved from a few hand-trucks and a dream to a complete dealership with over 5,000 material handling products in stock; from one salesperson to a total of ten experienced material handling experts serving Georgia, North Carolina, South Carolina, and Virginia; and from offering simple material handling solutions to complete engineered systems. Learn more about Carolina Material Handling at http://cmh-inc.com. Their GSA Schedule Contract number is GS-07F-0392X.