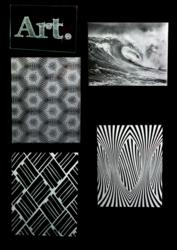 South Gate, CA (PRWEB) June 25, 2012
In an ongoing effort to find unique glass solutions that best communicate clients' visions, Glasswerks Inc. -- a leader in commercial and architectural glass fabrication -- has partnered with LASER THIS to offer detailed imaging on all kinds of architectural glass.
Designers and architects now have unlimited options when it comes to working with glass. Whether it's logos, natures scenes, or intricate patterns the client seeks, Glasswerks and LASER THIS will partner to provide high-quality laser imaging on everything from shower doors to glass dividers, backsplashes, mirrors and more.
"Glass as a construction medium has been used for many years to enhance and reinforce quality expectations but may have lacked the depth of detail now available with today's high-quality laser imaging equipment," LASER THIS, based in Hawthorne, CA, says on its website. "Imagine a pair of entry doors with a flock of geese flying across or a divider in a restaurant depicting detailed arrangements unheard of just a few short years ago."
In May, Glasswerks Inc and LASER THIS showcased laser-imaged mirrors and tempered glass at the Hospitality & Design Expo in Las Vegas. Photos are available upon request (contact Alex Cabral, Marketing Manager at alexc(at)glasswerks(dot)com or 888-789-7810).
For more information laser-imaged glass, or to learn more about Glasswerks detailed custom glass products, call Glasswerks at (888) 789-7810 or go to http://www.glasswerks.com.
About Glasswerks Inc.
Glasswerks Inc. is a leading commercial and architectural glass fabricator headquartered in South Gate, California. Glasswerks Inc. produces architectural glazing products, glass furniture, mirrors and decorative glass; specializing in the production and fabrication of laminated, tempered, insulated, bullet-resistant, hurricane-resistant, and high performance low-e glass products. Born out of the competitive construction landscape of Los Angeles in 1979, Glasswerks Inc. operates from eight U.S. facilities located in Southern California, Texas, Ohio, Pennsylvania and North Carolina. Catalina Tempering and Avalon Glass & Mirror are subsidiaries of Glasswerks Inc. Visit http://www.glasswerks.com for more information.
About LASER THIS
LASER THIS, a subsidiary of AJ Stevens Construction Inc., starting in 1978, recognized a need in the building industry—a need to combine quality etching with speed and accuracy. Learn more at http://www.laserthis.net.