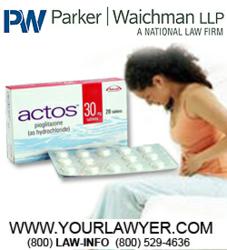 (PRWEB) June 23, 2012
Parker Waichman LLP, a national law firm dedicated to protecting the rights of victims injured by defective drugs, has filed a lawsuit on behalf of a woman who suffers from bladder cancer, allegedly due to Actos. The suit names Takeda Pharmaceuticals America, Inc., Takeda Pharmaceuticals USA, Inc., Takeda Pharmaceuticals North America, Inc., Takeda Pharmaceutical Company Limited and Eli Lilly and Co. as Defendants. The complaint was filed on June 14th in the U.S. District Court for the Western District of Louisiana (Case No. 6:12-cv-1701) and is currently pending in the Actos multidistrict litigation. Proceedings are centralized before Judge Rebecca F. Doherty, and Jerrold S. Parker, founding partner of Parker Waichman, has been appointed to the Plaintiff's Steering Committee. [http://www.lawd.uscourts.gov/MDL2299; http://www.lawd.uscourts.gov/MDL2299/html/news.html
According to the complaint, the Plaintiff took Actos from 2004 and 2007; she developed bladder cancer around April 2006. The lawsuit alleges that Actos caused the bladder cancer, claiming that the Defendants were aware of this risk but did not inform the public. As a result of their negligent and/or fraudulent actions, the lawsuit is alleging severe mental and physical pain and suffering, past and future permanent injuries and emotional distress, economic loss due to medical expenses and living related expenses as a result of a new lifestyle. The suit also claims loss of consortium on behalf of the Plaintiff's husband.
Actos is a medication approved to treat type 2 diabetes, a condition where the body fails to produce an adequate amount of insulin or does not utilize insulin efficiently. As a result, the body is unable to break down glucose for energy. Actos is intended to treat this problem by increasing the body's sensitivity to insulin.
Actos was originally launched by Takeda and Eli Lilly. According to the lawsuit, Takeda announced the end of this joint venture in April 2006.
Actos was suspended in France and Germany last June, after a study funded by the French Medicines Agency found that using Actos for one year was linked to an increased risk of bladder cancer in men. Days later, the U.S. Food and Drug Administration (FDA) announced that the Warnings and Precautions section of the label for Actos and other pioglitazone-containing medications would be changed to address a potential increased risk of bladder cancer. According to the agency's Safety Announcement, use of Actos for one year was linked to an increased risk of 40 percent. This past April, Health Canada made similar changes to the Actos label. [http://www.fda.gov/Drugs/DrugSafety/ucm259150.htm; http://www.hc-sc.gc.ca/dhp-mps/medeff/advisories-avis/public/_2012/actos_3_pc-cp-eng.php
Recent studies continue to support the link between the diabetes drug and bladder cancer. Late last month, Canadian researchers found that use of Actos for two years was associated with a two-fold increased risk. The study was published in the British Medical Journal. [bmj.com/content/344/bmj.e3500?utm_source=feedburner&utm_medium=feed&utm_campaign=Feed%3A+bmj%2Frheumatology+%28Latest+Rheumatology+articles+from+the+BMJ%29]
Parker Waichman LLP continues to offer free legal consultations to victims of Actos. If you or a loved one were diagnosed with bladder cancer after taking Actos, please contact their office by visiting the firm's Actos injury page at http://www.yourlawyer.com. Free case evaluations are also available by calling 1 800 LAW INFO (1-800-529-4636).
For more information regarding Actos side effect lawsuits and Parker Waichman LLP, please visit http://www.yourlawyer.com or call 1-800-LAW-INFO (1-800-529-4636).
Contact:
Parker Waichman LLP
Gary Falkowitz, Managing Attorney
(800) LAW-INFO
(800) 529-4636
http://www.yourlawyer.com