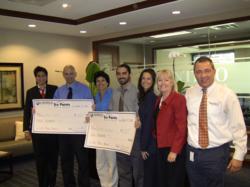 "Richard will be an artist working at an insurance company; it's a great example of multimedia studies being useful in many different industries." - Randy Friedman, President of Six points Media Group, LLC
Fort Lauderdale, FL (PRWEB) June 25, 2012
The winners were unveiled on June 11th at a ceremony at Patriot National's corporate headquarters in Fort Lauderdale. Aleck Ford and Richard Christian were recognized for their submissions; both students showcased their talents in 3D design work.
Linda Webb, President of Contego Services Group and Randy Friedman, President of Six Points Media Group were on hand to present the prizes. Mr. Ford was presented with a second-place prize of $400. Mr. Christian won $600 and an internship at Six Points Media Group.
"This contest offered the opportunity for an internship at a fast-growing company that employs hundreds of people in South Florida,"
stated Friedman. "Richard will be an artist working at an insurance company; it's a great example of multimedia studies being useful in many different industries," she added.
Mr. Christian's first project is one that will help young children: He will be creating a 3D animated character named Buster that will be featured in a series of fully animated public service announcements aimed at stopping bullying. These animated features will be distributed through social media sites and within schools.
Also in attendance was Jamie O'Connor, Director of Human Resources. O'Connor was quoted saying, "Richard is a welcome addition to our internship program and team! It's been fantastic to watch Buster take form, and so quickly! Richard has a true talent for multimedia and I look forward to seeing our PSA the end of this summer. Florida Atlantic University has been wonderful to partner with and it's a pleasure to have a great program that we hope to continue each year."
Six Points Media Group (SPMG) is a full service public relations and communications firm specializing in the enhancement of brand equity through strategic marketing, event planning, interactive communications and media production services.
Contego Services Group is a wholly-owned subsidiary of Steven M. Mariano and Six Points Investment Firm. It provides game-changing insurance services and cost containment solutions.
For additional information on Six Points Media Group, LLC and Contego Services Group, LLC visit http://www.sixpointsmediagroup.com and http://www.contegoservicesgroup.com or contact Jessica Custer at 954-566-1616.
Media Contact:
Jessica Custer
954-556-1616
http://www.sixpointsmediagroup.com
http://www.contegoservicesgroup.com
jcuster(at)contegogroup(dot)com